Fire Buyer takes a look at the importance of maintenance, training and compliance to the use of respiratory apparatus, focusing on global and national standards
Fire and rescue service personnel operate in dynamic and at times extremely hazardous environments e.g. incidents involving fire, chemicals, biological hazards, radiation and acts of terrorism. The wearing of breathing apparatus by personnel is one of the risk control measures likely to be employed within the overall operational plan for incidents of this type. Breathing apparatus enables the wearer to breathe safely in an otherwise irrespirable and/or toxic atmosphere.  
"Fire and rescue authorities and strategic managers within fire and rescue services are responsible for ensuring their personnel are suitably trained"
The Fire and Rescue Operational Training Guidance – Breathing Apparatus – supplied by the Department of Communities and Local Government, provides robust yet flexible guidance that supports the operational competency of personnel that are required to wear, manage or train others in the use of breathing apparatus in order to meet the requirements of a fire and rescue authority's Integrated Risk Management Plan. It aims therefore to provide a consistent approach throughout the fire and rescue service and forms the basis for common operational practices, supporting interoperability and resilience across fire and rescue services, other emergency services and where appropriate, industry.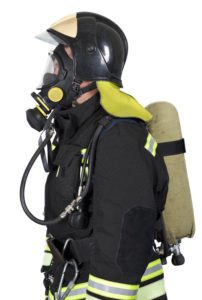 The guidance has been prepared as a guide for fire authorities, Chief Fire Officers, Chief Executives, and those persons within fire and rescue services with responsibility for firefighter safety. It is intended for use as a practical guide to the considerations they should make in meeting their duties and responsibilities. Accordingly, employee safety representatives should also find it helpful. Whilst addressing the legislative requirements placed on duty holders, the main focus of this guidance is the health and safety at work of all fire and rescue service personnel required to use breathing apparatus. This guidance sets a benchmark in the form of good practice against which fire and rescue authorities can measure their existing management systems and arrangements. The Health and Safety Executive, Trade Union Safety Representatives and others, such as independent auditors and operational assessment peer review teams, may also reference the guidance when auditing fire and rescue authorities arrangements for managing the health, safety and welfare of operational personnel.   
This guidance was developed with the support and input of the:  
Chief Fire and Rescue Adviser 

 

Health and Safety Executive 

 

The Fire Brigades Union and other representative bodies 

 

Chief Fire Officers' Association 

 

Devolved administrations 

 

Fire Service College 

 
Fire and rescue services legislation  
Fire and Rescue Services Act 2004: 
This is the main Act which affects fire and rescue authorities. Amongst other things, fire and rescue authorities must (in section 7) secure the provision of the personnel, services and equipment (including breathing apparatus) that are necessary to meet all normal requirements and also to secure the provision of training for such personnel. 
Fire and Rescue Services (Emergencies) (England) Order 2007: 
The Order obliges fire and rescue authorities to make provision for decontaminating people following the release of chemical, biological, radiological, nuclear (CBRN) contaminants (article 2) and  also to make provision for freeing people from collapsed structures and non-road transport wreckages (regulation 3). The Order also obliges fire and rescue authorities to use their specialist chemical, biological, radiological, nuclear or urban search and rescue resources (which may include specialist breathing apparatus) outside their own areas to an extent reasonable for dealing with a chemical, biological, radiological, nuclear or urban search and rescue emergency (regulation 5).  
Civil Contingencies Act 2004: 
Section 2(1) states, among other things, that fire and  rescue authorities shall maintain plans for the purpose of ensuring that if an emergency 12 occurs or is likely to occur the fire and rescue authority is able to perform its functions so  far as necessary or desirable for the purpose of preventing the emergency, reducing controlling or mitigating its effects or taking other action in connection with it.  
The Civil Contingencies Act 2004 (Contingency Planning) Regulations 2005: 
Fire and rescue authorities must cooperate with each other in connection with the performance of their duties under Section 2(1) of the Civil Contingencies Act 2004. In addition, the Regulations state that fire and rescue authorities may facilitate cooperation by entering into protocols with each other (regulation 7), that fire and rescue authorities may perform duties under section 2(1) jointly with one another and make arrangements with one another for the performance of that duty (regulation 8). Such arrangements can   include the inter-operability of breathing apparatus equipment.  
Health and safety legislation  
Health and Safety at Work etc Act 1974 

Safety representatives and safety committee regulations 1977 

Management of Health and Safety at Work Regulations 1999

Provision and Use of Work Equipment Regulations 1998

Personal Protective Equipment at Work Regulations 1992
Specific legislation regarding Respiratory Protective  
Equipment  
Confined Spaces Regulations 1997

Reporting of Injuries, Diseases and Dangerous Occurrences Regulations

1995 

 

Control of substances hazardous to health 2002

Control Of Asbestos Regulations 2012

Control Of Lead Regulations 2002

Ionising Radiations Regulations 1999

Dangerous Substances and Explosive Atmospheres Regulations 2002
Training 
Fire and rescue authorities and strategic managers within fire and rescue services are responsible for ensuring their personnel are suitably trained and competent to undertake the roles identified within this guidance. A service can achieve this by ensuring they have the following:  
A breathing apparatus training policy (to meet the needs of their Integrated Risk Management Plan) that is clearly endorsed by strategic management that states the fire and rescue authority will ensure they have suitable and sufficient arrangements in place to provide both the training and the assurance of competence for those personnel undertaking the roles.

 
A clearly identified management structure, together with the roles and responsibilities, of staff responsible for delivering the policy. 

 
Established minimum breathing apparatus training standards, the frequency of breathing apparatus training activity and assessment. 

 
Identify that breathing apparatus training, maintenance and assessment for the three identified roles will be undertaken based upon training needs analysis at a Service and an individual level. 

 
Clearly define how the fire and rescue service will measure the effectiveness of the breathing apparatus training policy and identify how and when the fire and rescue service will audit and review the breathing apparatus training policy, to ensure that it is current and enables continuous improvement based on local, regional and national developments. This will ensure the fire and rescue service has established a systematic approach to breathing apparatus training encompassing the fire and rescue service Health, Safety and Welfare Framework. 
Maintenance 
Cleaning and maintaining your life-saving equipment is never superficial. Whether your SCBA hangs on the wall ready to be used in an emergency or you constantly have it on your back as a hazmat responder or firefighter, it should always be kept in tip-top shape. 
When you enter an IDLH atmosphere such as a fire, the air is filled with hazardous chemicals and particulate matter which can settle onto your bunker gear and SCBA. Once you bring the equipment back inside the truck or fire hall, these carcinogens can be disturbed and/or emit toxic gases. This can lead to you breathing in the harmful soot and carcinogens without the protection of a respirator, causing negative, long-term health effects including cancer. The best way to combat this is by cleaning all of your gear (including your SCBA harness and cylinder) immediately after attending a call. It is also imperative that the responder practice good hygiene by doffing their equipment in a manner that doesn't contaminate them or surroundings and of course washing up afterwards. 
"Before each shift, firefighters should take five minutes to thoroughly check over their equipment"
In order to ensure that your SCBA will work how it's supposed to, when it's supposed to, it's vital that you have it serviced regularly. Major brands including Scott (3M), MSA and Honeywell each call for the following maintenance in order to meet CSA, NFPA and Transport Canada guidelines: 
Routine flow testing for open-circuit SCBAs.

 

Breathing air must be replaced annually along with an internal visual inspection of the cylinder.

 

Hydrostatic testing of fibreglass or Kevlar full-wrapped and hoop-wrapped cylinders must be performed every three (3) years.

Hydrostatic testing of steel, aluminum and carbon fibre cylinders must be performed every five (5) years.

 
Cleaning and maintaining your SCBA isn't complicated. Before each shift, firefighters should take five minutes to thoroughly check over their equipment to make sure it's ready to go. This includes: 
Making sure that all of its components are present (e.g., facepiece, back frame, hardness, cylinder, gauges and accessories).

 

Checking for dirt, cracks, cuts, tears, deterioration and damage from heat or chemicals.

 

Ensuring that it is fully charged to the manufacturer's specified pressure level; you want to be confident that you have the maximum amount of air when entering into an IDLH

 

If you notice any issues or damages to your equipment, it's essential that you have it serviced by a factory-trained and certified technician immediately and that you do not use it until the problem is resolved. Hint: we offer SCBA maintenance and servicing.

 
Breathing apparatus is a core component to any firefighter and any fire service, not just for the protection of the first responders, but for the protection of equipment and civilians. Taking simple maintenance, training, cleaning and compliance measures will ensure that your department is fully compliant by global and national standards. This is the best way to ensure safety for your firefighters.  
Josh Burnheimer, Global Product Marketing Manager- SCBA & Fire Solutions 3M Scott Fire & Safety  
3M Scott Sight is a great example of engaging in an ongoing dialog with firefighters, encouraging them to ask "what if"? Through this dialog, a common theme emerged. What if every firefighter could see clearly in every situation? What if she or he could have thermal imaging in their mask, on-demand during fireground operations? What if they could have hands-free thermal vision?  3M Scott listened to firefighters and in a short time, designed, manufactured, and delivered Sight, the industry's first in-mask thermal imaging system for firefighters.   
Sight combines a thermal imaging camera with a small eyepiece located in the facepiece giving firefighters always-on thermal vision, increasing their situational awareness. Sight provides firefighters more than just vision. It gives them their hands back. No longer does a firefighter have to reach for a console or a TIC to gain vision in a smoky environment. Thermal vision is now always on, when they need it, and with their hands free for other tasks. 
There are many topics that are at the top of minds in terms of innovation including limiting carcinogen exposure, harnessing new technologies, and total cost of ownership amidst global budget constrictions and rising inflation.  
Possibly the biggest danger the industry is addressing is that of carcinogen contamination of firefighting equipment after use.   Many manufacturers, including 3M Scott are introducing cleaning methods to help minimise carcinogen exposure through improved washing methods. We are also addressing this through product design. Improving the user experience and ease of disassembly encourages more frequent cleaning.  
Commentary: Brian Hesler, Consultant and Specialist Advisor at Draeger Safety UK and former Chief Fire Officer for the Northumberland Fire and Rescue Service  
The equipment used by a firefighter, including respiratory protection equipment (RPE), is effectively a fire fighter's life insurance. As a result, they must be well-maintained, cleaned to the highest standards after every use and properly dried to ensure they are ready for re-use.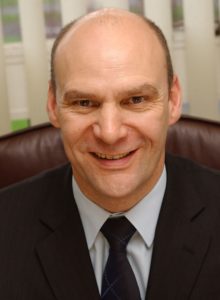 To this end, modern firefighter equipment workshops provide segregated 'clean' and 'dirty' areas to provide fire services with areas for appropriate drop off for dirty/contaminated equipment, the decontamination/cleaning of the kit, maintenance for operational readiness, and uplift/dispatch of operationally ready items.  
These thorough processes are evidence of a considerable cultural shift, that has taken us from firefighters wearing dirty kit as a badge of honour (often undertaken to prove their hard work and value) to understanding that clean and well-maintained kit, supported by detailed and robust hygiene processes that mitigate every contact with contaminants, are essential. 
Technological advancements  
Modern mechanical washing systems now provide complete consistency in washing temperatures, the amount of detergent used, as well as the speed and temperature of drying. All this works together to remove contaminants, disinfect and protect the longevity of the equipment. Dräger was the first company in the emergency services space to launch these dedicated workshop designs, cleaning solutions and offer full logistical support and training for technical equipment after installation.   
Kit has also been advanced for ease of cleaning. Take Dräger's PSS AirBoss, for example, where cleaning has been made simpler by designing smoother, non-absorbent, water-repellent surfaces to make equipment easier to wipe down and decontaminate.  
Ultimately, equipment needs to not only protect firefighters against a range of 'traditional' hazards - smoke, hazardous materials and fire itself, but also a series of new challenges, including bacteria, viruses and all other contaminants (including carcinogens). This means that every one of us has a duty to act differently and ensure equipment is cleaned, disinfected and maintained to the highest degree in the interests of everyone's safety and wellbeing.   
To stay up to date on the latest, trends, innovations, people news and company updates within the global fire market please register to receive our newsletter here.
Media contact
Rebecca Morpeth Spayne,
Editor, International Fire Buyer
Tel: +44 (0) 1622 823 922
Email: editor@firebuyer.com