Fire Buyer takes a look at the most essential uniform items from helmet to boots, and analyses which materials are ideal for underlayer clothing
Nobody wants to get burned in a fire. Even if it's a possibility you've accepted as a firefighter, it's important to understand that the choices that you make about what you wear under your turnout gear can either contribute to being burned or help prevent it. Uniform doesn't just protect you against burns in a fire, but it also helps fight other types of injury whether internally or externally. But how do you know what to choose?  
The NFPA 1975 standard is intended to "safeguard emergency services personnel… by establishing requirements for flame-resistant clothing that won't cause or exacerbate burn injury." Every component which goes into a garment certified to this standard is independently tested, and then tested as a whole once incorporated into the garment, by independent certification laboratories. Included in the standard are garments which are made of FR Cotton as well as Aramid fibers such as NOMEX and Kermel – but what are the differences, and which performs better?  
We spoke with Stephen Blauer, from Blauer, in charge of product development for many years and an industry expert when it comes to uniform apparel, to find out what happens to each of the various materials when exposed to heavy fire – and the predicted burn injuries for each. 
Cotton  
While cotton is still the choice of many fire agencies, primarily due to the comfort factor and cost, it is not a good option for clothing to be worn under your turnout gear for a couple of reasons. The first of these: cotton absorbs moisture and holds it in, which causes a few issues. While you're inside trying to knock down a fire, the environment can reach hundreds of degrees, meaning you will be sweating. If that heat then penetrates your gear, either through areas such as the nape of your neck or cuffs, or for other reasons, it can cause the sweat held in the cotton to flash evaporate, causing burns on your skin. Even if that doesn't happen, however, and you exit the working environment, the relatively colder temperatures outside (especially in winter) can leave you vulnerable to hypothermia due to being soaked through. Having GORE-TEX or other materials in your turnout gear will do you no good in terms of moisture dissipation if the moisture can't get away from your skin in the first place.  
"If heat penetrates your gear, it can cause the sweat held in cotton to flash evaporate"
Second: cotton burns in a fire – it is not self-extinguishing and is a fuel which will burn until it is consumed. No explanation is needed as to why that's not a great property for something being worn into fire-pervasive environments.  
NOMEX and Kermel 
The next category, Aramid fibers such as NOMEX and Kermel, have properties which make them much more suitable for use under turnout gear. First, unlike cotton, they do not burn – rather, they turn into ash when combusted, and are also self-extinguishing once lit. This means that instead of trying to pry unburnt cotton fibers out of an area of skin which has been burned, at the worst you will be washing ash away from the area.
"Aramid fibers such as NOMEX and Kermel, have properties which make them much more suitable for use under turnout gear"
Comfort and durability are areas which have been a concern in the past with Aramid fibers, but which have now improved significantly with the advent of new materials. Modern GlenGuard Kermel, for example, is not only softer to the hand (and body) touch, but is also colorfast and fade-resistant due to the entire fiber being manufactured in a single solid colour, in contrast to NOMEX materials which are piece-dyed (colour is added after manufacture of the fiber). In terms of water absorption, Aramid fibers simply don't absorb water by their nature. This means that the concerns about fluid against your skin when it comes to temperature regulation and burn prevention are virtually nullified. 
Poly/cotton blends 
Far too many agencies are still wearing poly/cotton blends. These are not the best choice that you could make in terms of base layers under your turnout gear and are not NFPA 1975 compliant for a reason. Polyester is plastic, and plastic melts under heat – combine that with the burn properties of cotton and you have a recipe for a nightmare. Simply put, the polyester will fuse with your skin and cannot be removed, and the cotton can cause worse burns overall. That means skin grafts at best, and permanent non-repairable injuries at worst, including a potentially higher risk of infection and immune rejection at the burn site due to the foreign material's presence.  
If your department is wearing this as a station wear uniform that is intended to be worn under your turnout gear, it should change over immediately. In the end, the choice of a slightly more expensive Aramid FR uniform can prevent not only long-term disability and the associated costs of care to a municipality, but are more frankly a matter of protecting those who serve their communities and have volunteered to take on a career battling the scourge of fire on their behalf. 
Basic uniform staples 
Becoming a firefighter is one of the most incredible ways to serve society and to ensure that your occupation is a meaningful one. Before you embark on firefighting training, you may ponder what it entails, what is needed from you and how safe will you be, including the uniform and equipment, which you will learn all about from the trained professionals and proficient training courses.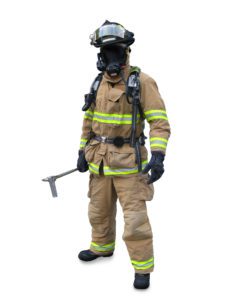 If you will be putting your life on the line, protecting others and running headfirst into burning buildings, then you deserve to have the very best equipment and protection available. Understanding how each piece of equipment operates to save lives and how your uniform is designed to protect you is a great first step. If you are joining a state fire service, then your uniform and equipment should be provided to you, but if you are in a private firefighting team or are looking to gain equipment for your property, then you need to do your research into the best equipment and ensure that everything is made with the correct protective gear, is compliant to NFPA standards and that it is good quality. 
The tunic 
The tunic is the highly recognisable overalls that firefighters wear which are usually yellow, beige or orange and are lined in reflective strips. In order to combat the heat and the various hazardous environmental aspects, the tunic is made out of synthetic fibre that is fire resistant and is also able to withstand tears and cuts. The material that the tunic is made out of is also not too thick that it weighs down the firefighter and therefore does not get in the way of them effectively doing their job. 
"The tunic is the highly recognisable overalls that firefighters wear which are usually yellow"
The tunic is usually split into a pair of trousers and an overcoat which is flexible with a long zip stretching to the collar of the coat, ensuring that the neck is also protected. The trousers are fitted with suspenders to ensure that they stay in position while climbing structures and heading into burning buildings. The whole ensemble is kitted with reflective strips in multiple areas to ensure that firefighters will still be able to see each other in the event that there is low visibility. 
The helmet 
The helmet that a firefighter wears is one of the most important pieces in their gear because it protects the vital organ, the brain. It's no secret that head injuries can be extremely dangerous and can lead to many other serious medical complications, it is vital that correct protection is worn. When a firefighter is attending to an emergency there are an array of potential hazards to the head, including debris, chemicals, falling structures, flames and more. 
This is why the standards for firefighting helmets are continually being updated and analysed, ensuring the best possible protection. The helmets are made of a sturdy material and are lightweight, durable, impact absorbent, long-lasting and protective. The helmets were historically created out of leather, and then metal (brass, nickel and aluminium), and are now made out of lightweight plastics and polymers. 
Most firefighters wear yellow helmets however the colour of the helmet is actually a signal of ranking in some countries. In Britain, a Watch Manager is two grades above a regular firefighter and will wear a white helmet. Red is also an important colour and in places like Canada as well as in the United States, red helmets signify a senior position/command, usually a company officer. The Commissioner's helmet will usually be black. 
The boots
Firefighter boots are another important aspect of the ensemble and have the job of carrying and supporting the fire fighter while they launch themselves into danger. These boots need to provide both comfort and safety, and need to ensure that there will be no damage to the feet of the firefighter. The comfort factor aims to avoid ankle/leg injury and the boot is designed with a dual density cushioned rubber sole that makes the boot lighter, and also supports the ankle which reduces joint and skeletal impact injuries. 
The boots are usually made out of leather or rubber and are equipped with a steel toe insert. The boots are also fire and water resistant and the interior fabric is also lined with synthetic fire retardant which assists in breathability and radiant heat protection.  
Gloves 
Firefighters will be going into buildings and emergencies where you will need to be removing obstacles and debris and clearing an exit path. Your hands will also be used to hold the hose and fire extinguishers while you put out fires, and will also be in direct line from any embers or hazardous debris, so they need to be protected.
For general firefighting and situations involving fire there are thermal resistant gloves, there are general purpose gloves, and there are also surgical gloves if the firefighter encounters biological hazards such as bodily fluids. While there are gloves available on the market that aim to meet all of a fire fighter's needs, they are not able to ensure complete protection in all areas. This is why it is important to have the correct training and experience on what gloves are appropriate to wear to specific emergencies that you may be responding to. 
Commentary: Simon Ash, UK Sales Manager at HAIX 
Strains, sprains, and muscular pain are the most common types of occupational injuries among firefighters. Long shifts standing, climbing ladders and tackling uneven terrain put firefighters at risk of foot injuries, and even longer-term issues like musculoskeletal disorders if their boots do not provide the right levels of support.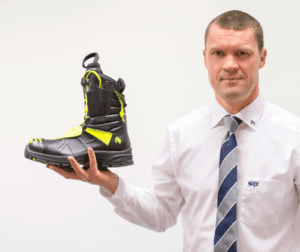 Modern materials used in the interior lining of boots can help prevent blisters and soft-tissue injury by reducing friction and pressure. It is also important to invest in boots with a climatic control system that regulates temperatures within the boot because damp feet are more likely to experience friction injuries. Ensuring footwear meets the EN 15090:2012 standard will help with insulation against heat and cold, as well as provide chemical, water, puncture and slip resistance.  
A key feature to look for when buying work boots is that they actively work to correct foot posture, which can help reduce lower body and back pain by aligning the spine properly. Doing so will reduce musculoskeletal disorders and provide superior long-term comfort.   
HAIX's designs include elements such as PU sole support wedges, two-zone lacing systems, foot arch support and heel cup cushioning to ensure that wearers are guaranteed the best fit, no matter how long the wear time – because if firefighters are worrying about their boots, they aren't focusing on the job at hand. HAIX fire boots also feature designs made to make donning/doffing them smoother and faster, ideal when a call comes in and every second counts.  
Mick Christian, Regional Training & Development Manager at Electrolux Professional 
Research has shown that firefighters are at a higher risk of developing and dying from cancer than the general population, which is why their uniforms are specifically designed to trap harmful volatile organic compounds (VOCs) and polycyclic aromatic hydrocarbons (PAHs) inside the layers of the fabric. This helps to ensure toxins are kept away from the skin, but means that thorough cleaning of the garments is necessary to maximise this benefit.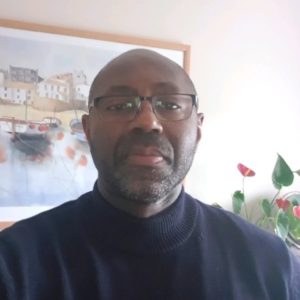 When we started working on the Healthy Firefighters programme six years ago, we aimed to develop a solution that would address some of the lesser known risks associated with firefighting. The results have been promising, with our Barrier Washers reducing contaminants in uniforms to a much greater degree than standard washing. 
The safety-critical role of a firefighter's uniform means that maintenance regimes have to be rigorous, and tailored to the unique demands of the profession. Cleaning is an integral part of this, and taking every possible step to reduce exposure to harmful toxins should be a top priority. 
The optimal way to do this is to run the uniforms through a high-performance Barrier Washer after every use. This will ensure that uniforms – a key component in firefighter health and safety – continue to function as they should do.  
To stay up to date on the latest, trends, innovations, people news and company updates within the global fire market please register to receive our newsletter here.
Media contact
Rebecca Morpeth Spayne,
Editor, International Fire Buyer
Tel: +44 (0) 1622 823 922
Email: editor@firebuyer.com