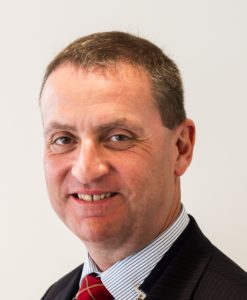 International Fire Buyer talks exclusively to Steve Hamm, CEO of the Institution of Fire Engineers to discover how accreditation and knowledge can help the industry of tomorrow 
With over 100 years' experience, how is the Institution of Fire Engineers (IFE) helping shape the industry and extend knowledge? 
The reality is the fire safety landscape in which our members operate is changing at a faster pace than at any time since the foundation of the Institution in 1918.  
Across the board our roles and responsibilities are evolving, influenced by advances in technologies and materials, external factors such as climate change and learnings from major incidents such as Grenfell.  
By listening to our members, we have come up with a strategy that ensures the IFE remains relevant to future needs, builds on the potential of digital learning and knowledge sharing initiated during lockdown and influences best practice around the world.  
How can qualifications, grades and IFE Recognition help members of the fire industry to improve fire safety and protection? 
As well as minimising risks and maximising the opportunities to protect lives, competency builds trust and resilience. Trust is vital when you are dealing with multiple stakeholders and particularly when you need to encourage the high standards of practice and behaviours needed to protect lives, buildings and the environment from fire.  
For the IFE, competency is about more than knowledge and qualifications, it is about maintaining the high levels of ethics and standards that drive advances in fire safety, life protection and innovation around the world.  
Our members are actively involved in all aspects of fire prevention and management and we see their commitment to seeking out and setting the highest standards every day.  
Our research particularly highlighted the importance members place on the global reach of our organisation, enabling them to learn from each other and ensure they are at the forefront of best practice. This builds their own levels or expertise and in turn the confidence that others have in their services, advice and assessments.  
How does the assessment programme and exams work? 
The IFE's qualifications are recognised by employers in the fire sector throughout the UK and internationally.  Each year the IFE receives around 6,000 examination entries from candidates in more than 20 different countries.  
Assessments are available in specialist fire subject areas such as fire engineering science, fire safety, fire service operations and incident command, fire investigation and passive fire protection.  In line with our Engineering Council licence, we also have a vital role to play in accrediting external courses and work closely with universities and higher education providers to ensure we futureproof qualifications across the board.  
Our assessment materials are developed, and quality assured by sector experts who bring extensive experience and up to date knowledge to the process. This means that candidates undertaking IFE qualifications can be confident that they are accessing a valued qualification recognised nationally and internationally and their efforts will receive professional and robust assessment by industry experts. We have established a CPD hub on our website and are committed to developing clear career development pathways for all.  
Has the Covid-19 pandemic changed the way you deliver your training and development?  
Throughout our global network training, webinars and seminars have been taking place online. This has widened access to knowledge sharing and events and we will continue to include online training and development as part of our portfolio of CPD activities in the future.  
How does IFE benefit firefighters on a day-to-day basis? 
In a world that's changing fast, knowledge, expertise and accountability will give all those working in the industry the tools to make the right decisions and continue to build long-term trust and confidence in the communities they serve.  
New special interest groups, training opportunities, qualifications and a new online knowledge centre are just some of the ways the IFE is supporting members as they step up to these new challenges.  
Recently, the National Fire Chiefs Council (NFCC) in the UK endorsed the IFE as the third-party validator for fire and rescue service fire safety inspectors. This reflects the need for professional registration of practitioners in roles where decision making, and assessment based on knowledge, understanding and experience is paramount.  
Admission to membership and the professional registration of significant numbers of UK based fire safety inspectors will provide a wealth of additional technical and professional capacity to our membership for the benefit of all. The decision by the NFCC in the UK signals formal recognition of the highly trained, skilled and knowledgeable individuals who work in those organisations across all roles.  
Given the latest developments in technology, particularly in eco-friendly materials and suppression substances, where do you think firefighting is heading? 
The reality is our world is changing at a faster pace than ever before, driven by climate change and sustainability, new transport and energy systems are just two of the many evolving landscapes where the fire industry needs to adapt.  
To do this effectively, we must work in partnership, collaborate across specialisms and build our knowledge and skills together. Each person working in the fire industry today brings their own experience and valuable perspective to solving the problems of the future.  
As a global organisation, it is truly exciting that we have international peers we can learn from to discover new technology and techniques to address future challenges, whether that is innovations in tackling wildfires or how AR/VR and drone technologies are being used to build skills, knowledge and understanding.  
What do you think is the biggest challenge facing the fire industry? 
IFE members are professionals ideally placed to inform the research and development agenda so that buyers are presented with the best possible solutions for the challenges presented by fire. UK bodies such as the NFCC and the FIA (Fire Industry Association) would benefit from more focus on data and research driven product development. 
By engaging at an early stage, wider options will become visible as industry Is constantly working on innovation by using the latest technology. The Fire and Rescue Services would benefit from this early exposure so they can influence the development of products which would benefit all parties. Also presenting what is trying to be achieved and not asking for another version of an existing product would open a new world of technological options that may be more efficient. 
Frontline responder organisations need to be engaging with the wider industry about what they need from a design, protection and equipment point of view to make their jobs both safer and more efficient. One thing is certain, we can't keep on doing things the way we always have done. There are exciting opportunities and technologies available that can transform our jobs, our safety and our capacity to protect others.  
To stay up to date on the latest, trends, innovations, people news and company updates within the global fire market please register to receive our newsletter here.
Media contact
Rebecca Morpeth Spayne,
Editor, International Fire Buyer
Tel: +44 (0) 1622 823 922
Email: editor@firebuyer.com