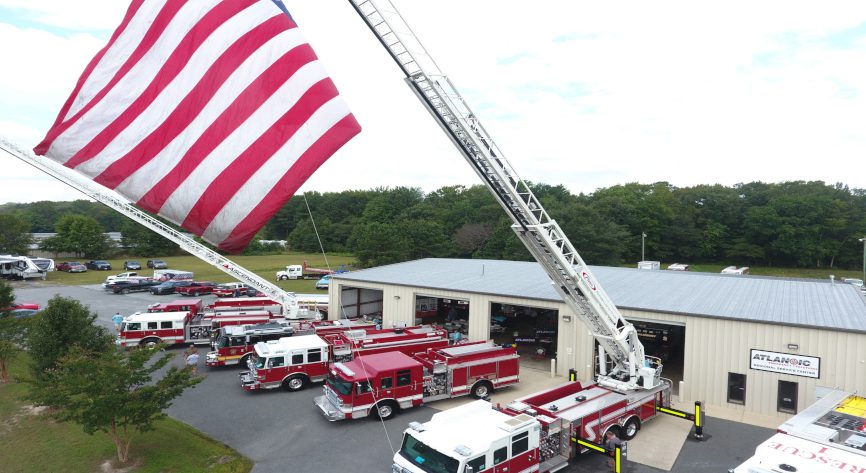 Atlantic Emergency Solutions opens new service centres in Maryland and North Carolina
Pierce Manufacturing have announced that Atlantic Emergency Solutions has opened new service centres located in Salisbury, Maryland and Charlotte, North Carolina. The new locations will service all makes and models of Pierce fire apparatus including third party aerial and ladder testing, pump testing, collision, fabrication and paint services, preventative maintenance, and all major and minor repairs. Each location will also be equipped with 24-hour mobile service technicians, available for dispatch when requested. Atlantic Emergency Solutions is the authorized Pierce dealer for Delaware, District of Columbia, Maryland, North Carolina, Virginia and eastern West Virginia.
"On behalf of Pierce Manufacturing, I commend Atlantic Emergency Solutions for making the ongoing commitment to the men and women in the fire service by expanding its service centre reach," said Jim Johnson, president of Pierce Manufacturing. "As a certified Pierce dealer and a highly regarded emergency equipment provider in North America, Atlantic Emergency Solutions' expansion will provide critical service resources to allow fire departments to get the highest level of performance out of their apparatus."
Atlantic Emergency Solutions is based in Manassas, Virginia and employs more than 250 professionals and master-trained technicians who offer sales support, comprehensive parts and service capabilities, around the clock roadside assistance, and customer training. The new service centres located at 32080 Beaver Run Drive in Salisbury, Maryland and 6809 Statesville Road, in Charlotte, North Carolina, will be equipped with the same resources for routine and emergency service needs.
"At Atlantic Emergency Solutions, we are committed to meeting the unique needs of our customers and beyond pleased to offer that same trusted partnership at our new locations. Closer proximity to the many departments requesting assistance, will allow our team to help reduce the amount of time an apparatus is in repair," said Will Bascom, Chief Operations Officer, Atlantic Emergency Solutions. "We look forward to building a strong relationship with the Maryland fire service community and continuing to support North Carolina fire departments with the integrity and hard work our talented employees and master trained technicians put forth each day."