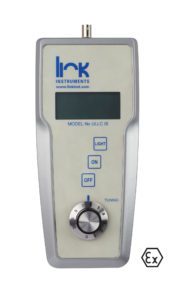 An advanced ultrasonic liquid level indicator for fire extinguishers will be demonstrated by Link Instruments at HazardEx 2021. Using the intrinsically safe ULLC IS, the fill levels of banks of extinguishers in hazardous areas can easily be checked without interrupting normal operation. This avoids the need for shutdowns, leading to substantial savings in time and costs.
The hand-held unit uses ultrasound to locate the boundary between the liquified and gaseous gas. To use, the transducer is placed against the cylinder body just below the expected fill level and then gradually raised until the readout shows a sharp jump. This happens due to the greatly enhanced propagation of ultrasound when the transducer reaches the liquid / gas interface.
The ULLC IS can be used with fire extinguisher cylinders containing liquid CO2, Halon, FM200, NOVEC etc, and is ATEX certified to II 2G Ex ib IIC T4 Gb. It is particularly useful in industries such as oil, gas and marine – especially LPG carriers.
Designed and manufactured in the UK by Link Instruments, it is supplied with a transducer and an extension pole for easy access to bulk extinguisher installations on ships etc. There is a five year warranty on the instrument and a one year warranty on the transducer.
HazardEx 2021 will take place in Harrogate, North Yorkshire, UK on 6 and 7 October 2021.
About Link Instruments
From its Hampshire premises, Link Instruments Ltd manufactures and supplies precision measuring equipment to the fire safety, marine, oil, gas and other industries worldwide. Established in 1996, it also offers comprehensive repair, recalibration and spares services, including for products from other suppliers.
To stay up to date on the latest, trends, innovations, people news and company updates within the global fire market please register to receive our newsletter here.
Media contact
Rebecca Morpeth Spayne,
Editor, International Fire Buyer
Tel: +44 (0) 1622 823 922
Email: editor@firebuyer.com