Fire Buyer catches up exclusively with cleaning expert Sebastian Hainz, Executive Vice President Sales & Marketing from MEIKO Group
As one of the market leading companies for cleanliness, how have you continued to stay ahead of the curve and ensure innovation?  
It is part of our company culture to listen to our customers. They value our products because we maintain close relationships with them and we do the homework they give us! In our 94 year history as a company, MEIKO has made contributions to all kinds of cleaning: baby bottles in milk rooms, spittoons in tuberculosis clinics, bedpans, industrial components, our appliances have been used by the Federal Agency for Technical Relief in areas affected by Ebola or now in many Corona emergency centres around the world, not to mention that we also clean dishes, glasses, cutlery and anything else used in businesses working with food. Of course, you build up some expertise in cleaning and disinfection doing all of that! MEIKO therefore has medical technology and professional dishwashing machines in place wherever in the world germs need eliminating and cleanliness is indispensable. 
One of your primary product divisions is Breathing Apparatus equipment. Why is it crucial to keep BA masks clean?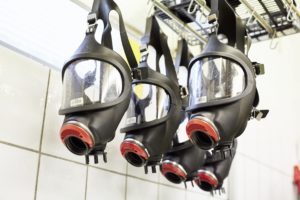 Without hygiene, even respiratory protection technology becomes a danger rather than a help in dangerous situations. Breathing masks as well as regulators must function reliably – and they should not show any microbiological residues from the comrades who used them before and also no fire residues. The respirator attendant is responsible for this. Our TopClean M technology gives him the necessary security. In addition, we developed a bioindicator test kit together with the company Simicon. This can be used to check whether germs that contaminate the respiratory protective equipment have been effectively eliminated. 
Why is this so important for the fire industry?  
It is first and foremost about the safety of the people. For the firefighters directly and for the respiratory protection equipment attendant. Manual cleaning involves high risks. It is not efficient, not economical and not good for health. During manual cleaning, the respiratory protection equipment attendants breathe in harmful aerosols of cleaning chemicals. Our machines, on the other hand, have a closed system and do not expose the operators to any danger. 
What types of bacteria/pathogens/hazardous substances do your products and services protect against?   
For the inactivation of coronaviruses as well as other enveloped viruses, we strictly recommend the standard reprocessing procedure for protective masks with our washer-disinfector TopClean M. As disinfectant we recommend Sekumatic FDR or EW80 mat – as a 1% solution at 60° C and a contact time of 6 minutes. 
This you can also read in the expert opinion of Dr. Rheinbaben – https://cdn.meiko-company.com/fileadmin/Aktionen/Coronavirus/Expert_Opinion_2019-nCov_TopClean_M_en.pdf 
Fire residues are also considered carcinogenic substances, which are just as safely washed off in the machine rinsing process. About our service we recommend regular maintenance to maintain high hygiene standards over the entire life cycle of a machine is elementary  
We see our Meiko Academy as another value proposition for our customers. We train not only our employees but also operators and their staff in how to use our machines, ensuring a high level of user safety. 
With Covid-19 highlighting the need for hygiene and cleanliness, how has this impacted MEIKO Group and what you stand for?  
A MEIKO brochure from the 1930s has the title "Hygiene is the law". Hygiene is anchored in our DNA, so to speak, and even in our logo we talk about the clean solution. It is a self-commitment for all our developments. We do not only consider our technology and machines alone, but also the holistic process around our technology. 
Due to the pandemic, however, many enquiries landed with us as to whether our machines also rinse hygienically in a safe manner. Therefore, our products have been examined by virologist and hygienist Dr. Dr. Friedrich von Rheinbaben, who confirmed that our machines and devices are particularly effective in inactivating the new coronavirus.  
What is the MEIKO Hygiene Concept?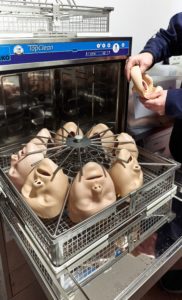 Every single appliance that leaves MEIKO production contributes its share to hygiene – in the kitchens, nursing workrooms and respiratory protection workshops of this world: We disinfect by machine where manual cleaning would otherwise endanger people. This includes our excellent technology, i.e. the washing mechanism, but also the right cleaner. In the case of coronaviruses, we know that alkaline cleaners work very well against enveloped viruses. In addition, time and temperature – along the Sinner's circle – are factors in the cleaning process to achieve a perfectly hygienic result. 
How important is sustainability in what you do?  
Sustainable management and action is something Meiko was born with. We say: We think in terms of generations, not quarters. Sustainability is an issue of attitudes. Meiko is owned by a foundation and is guided by its own values and axioms, setting it apart from the competition. Our 3P strategy – Product, Production and Participation – are the pillars of the sustainability strategy. Product goals include extending the service life and increasing the reparability of machines, as well as increasing the proportion of recyclable materials (already 90%) and making spare parts available for 20 years. In production, electricity is generated in-house from photovoltaic panels and topped up with energy from other green and renewable sources. Participation is about getting a lot of employees involved to become a more sustainable company. The service is also sustainable: with the first-time fix rate, the technician ideally solves the problem on the first visit. Extensively trained service technicians are the basis for being able to act in this way. This saves another journey, emits less CO2 and results in lower costs for the customer. 
6 minutes, 4 masks, 1 reason: time gain! 
Niklaus Lerch is Shift Leader at Roche's works fire service in Basel and the respiratory protective equipment technician responsible for 100 overpressure and radio-enabled masks, as well as 300 grab masks. He is still grateful to the search engine that listed MEIKO in its results. He was in urgent need of a machine that would save time on cleaning BA masks and bring the technology up to date.  
Why did he choose MEIKO? 'The TopClean M can handle four masks in just six minutes – that was what won me over.' The previous system used a dated instrument cleaner intended for use in healthcare and needed 42 minutes to clean the same number of masks – plus 45 minutes to dry them. Niklaus Lerch is happy to say, 'Now the masks are coming out of the TopClean M so hot that they're almost dry.' This capacity to clean masks much more quickly is not the only benefit that is highly appreciated. Hygiene is a precious asset in the pharma industry. And product safety can make the difference between life and death. The TopClean M responds to both of these factors and that is just as important as saving time. 
The works fire service has been cleaning its masks using the TopClean M since April 2017. Roche has been growing for years and today employs around 11,400 staff. It is no wonder, then, that Niklaus Lerch and his colleagues attend around 2,000 incidents per year – although most are small. 'We still have plenty to do, though,' says Mr Lerch, indicating the 25,000 fire alarms across the whole site and the 250 monitoring devices which have been installed to protect the local population and company employees.  
'It is our remit as the works fire service to monitor the monitoring devices, the facilities engineering technology and the signposting, security, alarms, eyewash stations and much more. That makes us responsible for the entire fire prevention programme,' says Lerch. The Roche team has 23 professional firefighters. 100 BA masks, including overpressure, filter and radio masks, are provided as part of the crew's PPE. 'Add to that 300 grab masks. They are used in the event of a substance release,' says Niklaus Lerch.  
Mr Lerch trained as a lab chemist and has been a professional firefighter for over eight years. Before that, he volunteered with Roche's voluntary fire service for eight years. Today, he is ultimately responsible for the respiratory protective equipment workshop. He and his colleagues knew that manual cleaning was not an option when they first took equipment that had already been cleaned manually and put it through the TopClean M: 'We unscrewed the filter from the machine and were astounded at what it had collected.' 
To stay up to date on the latest, trends, innovations, people news and company updates within the global fire market please register to receive our newsletter here.
Media contact
Rebecca Morpeth Spayne,
Editor, International Fire Buyer
Tel: +44 (0) 1622 823 922
Email: editor@firebuyer.com