Fire Buyer catches up with Ian Hill, lighting expert from Hochiki Europe who explores technological advancements of emergency lighting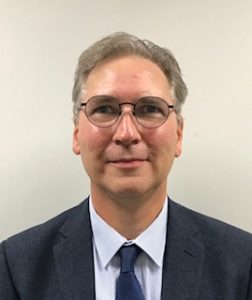 Fire Buyer catches up exclusively with emergency lighting expert from Hochiki Europe, Ian Hill to find out in depth, innovations in technology and what the future landscape of emergency lighting looks like. Ian's lighting career started in the eighties with Simplex Lighting where he was a Lighting Design Engineer. He has gained further experience since in sales and business development roles with some of the leading manufacturers, and now specialises in Emergency lighting at Hochiki Europe.  
Why is emergency lighting so important? 
Emergency lighting is a life safety system and as such is just as important as a fire alarm. In the event of a power failure, particularly at night or where there is no natural light such as in a basement or enclosed room, it is imperative to provide adequate illumination to facilitate the safe and efficient evacuation from a building or enclosed space. 
Consideration should be made for the number of people likely to be in a space, their familiarity with the building and their demographic. Particular attention should be given to more vulnerable members of society where physical and mental abilities may be impaired. Carers and health workers for instance, responsible for the safety of the elderly and infirm will need to be provided with clear and unambiguous exit routes from a building to a place of safety, minimising risk and ensuring that all occupants are evacuated safely. 
The latest legislation also makes provision for "emergency safety lighting" which allows for people to stay in the building under certain circumstances in the event of mains lighting failure. 
How can smart technology and AI be integrated with emergency lighting, and how does this benefit fire safety and evacuation? 
Traditionally, emergency lighting has been autonomous and simply controlled by the mains power condition. Providing the normal lighting circuits are healthy, the emergency lighting will remain off until a mains lighting circuit fails (EXIT signs and some lights may be set to remain on under certain circumstances). This is not very flexible in that any modification to the building will require costly re-wiring.   
Addressable self-testing emergency lighting systems, such as Hochiki's Firescape, can be networked together to facilitate the control and monitoring of a whole building, or even multi sites when connected via the internet. CAD floor plans can be overlaid with emergency lights to provide a real time graphical view of the system from a central location. Faults can be automatically relayed to the user via e-mail allowing for a quick resolution maintaining safety for occupants. Any building modification can be accommodated by re-addressing lights to suit the new layout. 
The latest generation of systems can interface with fire alarms and guide people to the safest exit, blocking access to areas where a fire has been detected. It is important to make sure that signage is only blocked only on the first detection; as the fire spreads, more or all signs may be blocked leading to confusion and panic. 
Your product, Firescape, is an award-winning solution. What places Hochiki above other market leaders? 
Firescape provides a simple emergency lighting automatic testing system which is highly cost effective to install, use and maintain. 
It differs from most systems on the market in that emergency lights and exit signs are charged, monitored and controlled via two wire, low voltage cabling (most wired testing systems require mains voltage and additional two wire data cabling). Being low voltage allows the end user to change the batteries quickly and easily without the expense and lead time of an electrical engineer. This is an advantage particularly in care and healthcare applications minimising the number of people in the environment, reducing the risk of bringing infection into the environment. 
Firescape's cost of ownership is very low as it mostly alleviates the need for manual testing and costly engineers' visits. The customer is assured that their legislative requirements to test and record results are being met. 
Why is regulatory and standard compliance in emergency lighting imperative for buildings/organisations? 
Emergency lighting can easily be overlooked when a building is being designed or refurbished, design consideration and budget will often be focused on the aesthetic aspects of the project.  
Compliance with product and emergency lighting scheme design requirements is imperative to ensure that the environment is as safe as possible and that people can easily make their way out of the building quickly, without panic and are able to carry out any essential tasks. Product should meet standards to ensure that they are fit for purpose and will perform as expected in an emergency. Third party accreditation by industry bodies such as ICEL (Industry Committee for  Emergency Lighting) will assure customers of product quality and fitness for purpose. A very useful booklet guide to BS5266-1 is available from Hochiki and can be downloaded from the website: https://www.hochikieurope.com/storage/resources/bs5266-1512041794.pdf 
Scheme design can be complex and requires a lot of information about the building and environment in which occupants are using the space. In addition to minimum lighting levels for escape routes and anti-panic spaces, consideration must be given to prescribed points of emphasis and high-risk task areas identified in the risk assessment. It is recommended that the design process is carried out by qualified professionals working with the design team or d user to ensure compliance. Light levels can be calculated accurately using software such as Dialux or Relux.  
An example of Dialux being used to good effect, ensuring compliance for points of emphasis, in this case a stairwell with fire extinguisher and disabled refuge. 
When designing products for the market, does the environment play a role? 
Yes, in addition to manufacturing from recyclable materials any, electrical system should be designed to use minimal amounts of energy. Firescape not only uses LED light sources, which are highly efficient, the system also controls battery charging current ensuring that the least possible amount of power is used to maintain charge and extend battery life. Batteries are very small compared to traditional emergency lights, further reducing the environmental footprint.  
What are the benefits of self-testing solutions? 
Compliance with BS5266-1 to test the lights and record results accordingly.

 
Peace of mind that the emergency lighting is operable providing safety cover.

 
Reduced cost of testing- no requirement to physically test monthly.

 
Reduced cost of maintenance- batteries can be changed by the user (Firescape).

 
Reduced installation cost with only two wires (Firescape)
System can be re-configured via software- reduced re-wiring cost.

 
Running costs are greatly reduced by controlled charging.
Systems are scalable-panels can be added and networked – graphics package 

option.

 
Faults are identified immediately–may not be identified until the monthly test 

traditionally.

 
Potential interface with other systemse.g., fire alarm/BMS
Re-configurable light output – lights can be switched at different levels during normal 

operation for night lighting etc. (Firescape).

 
Minimises the need for engineer visits in care environments (Firescape)

 
Case Study: Sligo Regional Hospital 
As part of a £1.6 million fire safety project, Hochiki Europe has been chosen by Masterfire Life Safety Systems to provide a complete life safety solution to protect the Sligo Regional Hospital and its hundreds of patients.  
Providing medical care to the residents of Sligo, Leitrim, South Donegal and West Cavan, Sligo Regional Hospital is spread over seven stories and houses up to 400 patients. With such large numbers of building occupants at any one time, the hospital presented a number of challenges and required a highly reliable life safety system that complied with all relevant regulations. 
Following a competitive tender, fire protection and life safety company, Masterfire, was commissioned by the hospital to oversee the installation of a new complete life safety system. To ensure optimum protection for the building and its patients, Paul McNulty, Sales Director at Masterfire, drafted in Hochiki Europe to provide multiple safety solutions. 
"Having previously worked with Hochiki Europe and its products on numerous projects, we knew the solution provided would not only be easy to install and maintain, but would also provide minimum disruption to the day to day running of the hospital," explained McNulty.
"The project required a system which offered complete accountability and testing control, so it was clear that specifying FIREscape emergency lighting solutions, alongside an ESP intelligent fire detection system, would be the best way to meet the brief." 
Sligo Regional Hospital's brief focused on the need to meet stringent hospital environment regulations. Hochiki Europe's FIREscape system is fully compliant with all European emergency lighting standards, making it the optimum solution. Alongside this, the system ensured that extra low voltage cable could be utilised, speeding up installation time and eliminating the risk to building users. 
Masterfire also specified the use of Hochiki Europe's ESP intelligent (analogue addressable) fire detection range. With a complex building design and multiple occupancies, the ESP range's proven reliability and software enhancements provided the hospital with a system that virtually eliminates false alarms. Installing the ESP solution meant that patients and staff can now use the hospital without interruptions or panic from false alarms, while saving valuable resources by avoiding Fire Response charges. 
To stay up to date on the latest, trends, innovations, people news and company updates within the global fire market please register to receive our newsletter here.
Media contact
Rebecca Morpeth Spayne,
Editor, International Fire Buyer
Tel: +44 (0) 1622 823 922
Email: editor@firebuyer.com