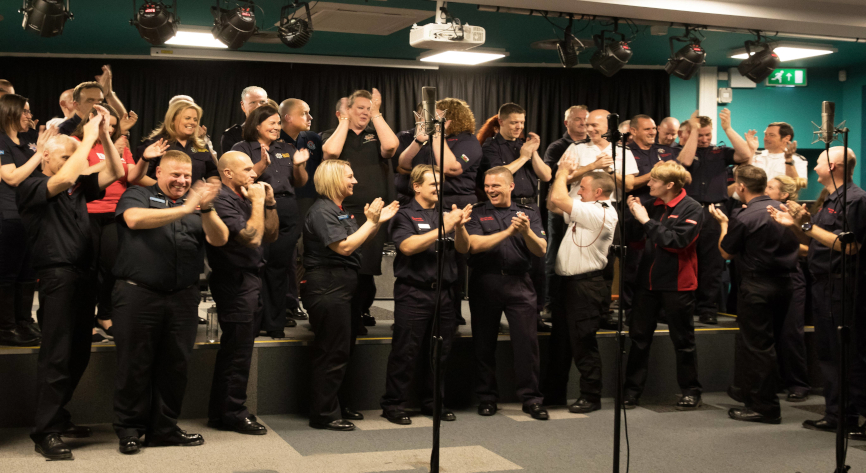 Welshpool firefighters aim for Christmas number one spot with charity single
Firefighters from the Mid and West Wales Fire and Rescue Service are aiming to achieve the Christmas number one spot with charity single produced in partnership with fire service personnel from across the country.
The group, Fire Tones, joined with stars from TV's The X Factor and The Voice to record their version of Band Aid's 'Do They Know It's Christmas?' earlier this month. This is one of the first times that anyone has been granted permission to record this track which will raise money for the Firefighters Charity and the Band Aid Charity Trust.  
"What started as a conversation in a Welshpool bar around this time last year has been nothing short of remarkable," said Chris Birdsell-Jones, Welshpool firefighter and organiser. "Our efforts have really gained momentum and we are grateful for all the support and advice received from the many people to get this project off the ground."
Stevie McCrorie, a past winner of The Voice, agreed to take part along with Andy Quinn, the star of BBC's Michael McIntyre's Big Show and a firefighter with Nottinghamshire Fire and Rescue Service. They were also joined by The X Factor contestants Marc Higgins, from Southampton and Richard Ryan, an on-call firefighter from Worcestershire.
Entrepreneur, Mike Harris, has also provided support through The News Saints FC and VCW Security. "I jumped at the opportunity to support the local Welshpool firefighters and was pleased to be able to provide funding to produce the collectable CDs," said Harris. "We will also be assisting with selling the CDs at The Venue at Park Hall, the home ground of The New Saints FC."
The release of 'Do they know it's Christmas?' by Fire Tones takes place on the 30th November, when it will be available as a download from iTunes, Spotify and Amazon Music. The single will also be available from Amazon Music and HMV as a collectable CD which will also be sold by firefighters outside Tesco stores and at other events to further increase the amount of money generated for the two charities.
Follow Fire Tones on Facebook, Twitter and Instagram @thefiretones999.