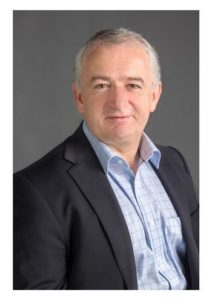 Donald McFarlane, Commercial Director for the Commercial Fire Division for Honeywell.
What's your favourite movie of all time? 
I like musicals and Les Miserables is my favourite show stage 
If you weren't in the fire industry – what would you be doing and why? 
I would either be a teacher or a social worker probably because I've always done a lot of work with kids.  I grew up in a youth group and after I left it as a kid and stayed on as a helper and did it until I was in my late 30's. 
What's the best piece of advice you've received? 
I started work as an electrician and my dad told me if you arrive every day on time, work as hard as you can, learn from the people who know more than you and if you learn from your mistakes, you'll never go far wrong in life. 
What two things would you take to a Desert Island? 
Definitely Sky Sports and an airbed so I could lie out in the sea and enjoy the sun. I love sunbathing and being by the beach in the sun. 
Describe yourself as a teenager in 3 words? 
Sporty, fiery and competitive. 
What's on your Spotify or iTunes? 
This is hard because I play keyboards (badly) so my music taste is wide-ranging.  But the ones I listen to the most are Oasis, Dire Straits, Queen, Coldplay and Calvin Harris. 
What makes you excited about the future of this industry? 
I'm starting to see some exciting innovations that'll probably give customers better detection protection and I think the big change coming is management systems, how they can manage it and make much more use around the technology around the tools that are coming. 
What is the latest innovation you would like brought into the fire industry? 
The one that's coming soon is self-testing detectors which have received significant investment. 
What do you like about the fire industry? 
I did have to think about this one because it's been my home for 35 years so you kind of take it for granted when you've been in that. I am proud of what we do as an industry. We protect lives and property. 
Where do you want to be in 5 years? 
I'm 54 so in 5 years time I'd like to be close to retirement so I think where I'd like to be is to have my team set up to be successful to take over from me. 
To stay up to date on the latest, trends, innovations, people news and company updates within the global fire market please register to receive our newsletter here.
Media contact
Rebecca Morpeth Spayne,
Editor, International Fire Buyer
Tel: +44 (0) 1622 823 922
Email: editor@firebuyer.com