Daniel Engelhardt, Product Manager LUKAS Rescue discusses the new SC 358 eWXT combi tool with door opening tips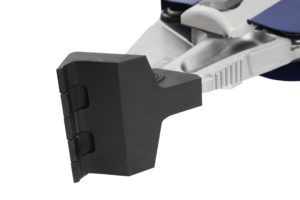 In 2015, we at LUKAS developed the StrongArm, a revolutionary tool previously unavailable on the market. This very compact and lightweight multifunctional tool can cut, spread as well as open doors or lift heavy loads. Whenever conditions require only a very low insertion height, the StrongArm is there to do the job. We were able to achieve this with our unique, newly developed door opener tips. The interlocking 2 and 3 finger tips in combination with the lateral offset are patented by LUKAS and allow unique application possibilities with our StrongArm. We at LUKAS have been able to convince numerous customers from the fire department, special forces and police of the superiority of the StrongArm since 2015. There were some customers in the last 6 years, despite the already very high strength of the StrongArm, who wanted an even stronger tool with the same functional properties. And so,we took our original idea a step further and applied it to another tool in our Combi portfolio 
The Combitools from LUKAS are true multi-talents: they are particularly powerful, have an impressive spreading path and long cutting edges.  
The Combitool Range from LUKAS has a tool for every taste. The SC 258 eWXT is a slim product with a well-balanced design. The most powerful Combitool SC 758 eWXT, equipped with the "Shark-Tooth-Technology" leaves nothing to be desired. And yet today the focus is on the LUKAS mid-range model, the SC 358 eWXT. The removable combi tips and a complete cutting edge prevent squeezing at the tips and the LUKAS SC 358 Combi Tool has an unrivalled cutting performance. The combi tips can be easily removed and replaced without the need for additional tools. This simple exchange procedure allows us to extremely quickly change Combi tips with "Shark-Tooth Technology" to a Combi with a fully finished cutting edge or the multifunctional door opener tips. 
Based on the geometry of the StrongArm door opener tips, LUKAS also offers a 2-finger and a 3-finger tip in combination with the SC 358 combi unit, which fit perfectly into each other when closed and combine a very low insertion height with high spreading force.  The lateral offset of the tips is also identical, enabling optimum insertion into the gap of the door to be opened. Also adopted from the standard combination tips are the self-explanatory locking bolts, which enable fast changeover of the tip types, and the low total weight of 2.3 kg per tip set. This is an absolutely unique selling point for combi units and currently unrivalled in the industry.  
The Combi SC 358 thus offers a unique application performance on the market as a stand-alone and fully-fledged rescue tool with large cutting and spreading forces on the one hand, and as a multi-functional tool for quickly opening doors or as a tool in USAR operations. 
Let us convince you of the uniqueness of our Combis with their versatile application possibilities and contact your local LUKAS dealer for a demonstration. 
To stay up to date on the latest, trends, innovations, people news and company updates within the global fire market please register to receive our newsletter here.
Media contact
Rebecca Morpeth Spayne,
Editor, International Fire Buyer
Tel: +44 (0) 1622 823 922
Email: editor@firebuyer.com