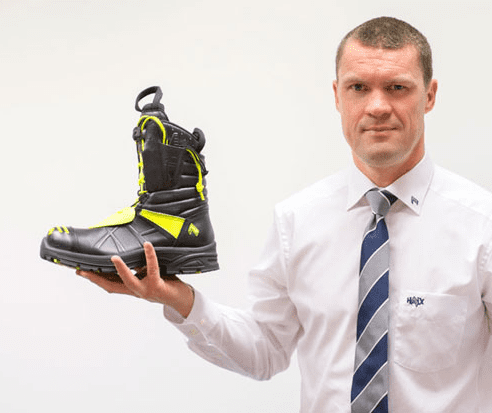 Simon Ash, UK Sales Manager at HAIX, discusses exclusively for Fire Buyer the evolution of the fire boot
Global footwear manufacturer HAIX began specialising in firefighter footwear nearly thirty years ago. In 1992, its founder's son Ewald Haimerl used his experience as a certified master shoemaker and deputy chief of Mainburg fire service to create a collection of boots that best served his comrades. The new design included switching rubber for leather to improve comfort, durability and safety.
Simon Ash, UK Sales Manager at HAIX, shares how far the industry has advanced since Ewald Haimerl first began designing firefighter footwear in his father's factory.
Material developments
Rubber fire boots first appeared in the 1930s, offering a cheaper alternative to leather. However, leather became increasingly popular in the 2000s because it is easier to decontaminate, can be three pounds lighter and provides better heel support, preventing discomfort or even injury on the job.
As the role of the firefighter has evolved over the last few years, intelligent use of new materials and closure systems such as the two zone lacing system have ensured a much more versatile, durable and comfortable boot.
Upgrades in standards
Firefighter footwear must withstand various challenges. As upgrades in safety standards have developed, historical pull-on rubber boots have been redesigned to incorporate a protective toe-cap, materials have been enhanced to better protect against hazards and there has been a shift towards leather as the material of choice. Ensuring footwear meets the EN 15090:2012 standard will provide chemical, water, puncture and slip resistance, antistatic capabilities and insulation against heat and cold, giving today's modern firefighters the confidence to focus on the job at hand.
To stay up to date on the latest, trends, innovations, people news and company updates within the global fire market please register to receive our newsletter here.
Media contact
Rebecca Morpeth Spayne,
Editor, International Fire Buyer
Tel: +44 (0) 1622 823 922
Email: editor@firebuyer.com