International Fire Buyer takes you through the most efficient and necessary equipment found on fire trucks that help firefighters save lives and put out fires
The two primary vehicles for the everyday firefighting industry are fire trucks and engines. Although extremely similar in appearance, the two vehicles have completely different roles in fighting fire, and therefore carry very different equipment.
Fire engines are large vehicles that are often red and sometimes go by the name pumpers. Firefighters will ride in a fire engine as a first response to a fire. The fire engine has a myriad of equipment for the firefighting crew  to help put out the fire. This equipment includes a lot of hose, a water tank, nozzles and a pump. The pump has a typical capacity of 1,500 gallons per minute (GPM) or more. The water tank is usually full with gallons of water, usually between 500 and 750 gallons in all (but this is dependent on the truck, terrain and type of fire).  
The firefighters will use water from the water tank to begin spraying the fire. If necessary, the engineer (also referred to as a pump operator) will also connect to an external source of water such as a fire hydrant or use submersible pumps from a nearby water source so they don't deplete their tanks. 
A fire engine will also come with mobile tech and two-way radio communication devices for the firefighters to communicate with others back at base or at the site of the fire so they're aware of what they're walking into, adn can prepare their PPE and equipment accordingly.
Fire trucks
Although looking like fire engines, fire trucks differ in certain ways. Fire trucks don't always have water pumps. A fire engine must put out a fire while the fire truck is there for a different purpose. Since they're not extinguishing fires all the time, they're not smack dab in the middle of the action, but are there for additional support. If the fire engine team needs help, the fire truck's firefighters are ready to assist. 
Mostly though, fire trucks work to extricate victims so the fire engine firefighters don't have to be distracted from their very important job of tamping down the blaze. Fire truck staff may also provide ventilation that makes it easier and safer for them to enter the burning building or for victims to escape. If the team has to use forcible entry to get into a building, they have the equipment needed for this as well on their vehicle.
Some of the most common equipment to aid firefighters that are commonly found on fire trucks as well as fire engines are as follows. 
Thermal imaging cameras
As a type of thermographic camera, thermal imaging cameras are an incredibly useful firefighting tool found on vehicles. The camera transforms infrared radiation into visible light so the firefighters can detect barriers, darkness, smoke and areas of heat. This allows the firefighter to plan how they'll enter the building and which areas to avoid.
A firefighter will either wear their thermal imaging camera on their head attached to their helmet or hold it in their hand. The housing of the camera is resistant to both water and heat, so even when the firefighter enters the building on fire, their thermal imaging camera continues to work. The best use of a thermal imaging camera is to detect body heat, aka that which comes from a living person. 
A firefighter can rely on the camera to find victims who may be unconscious or buried under rubble and cannot escape on their own. That makes the thermal imaging camera a great life-saving piece of equipment. 
Self-Contained Breathing Apparatuses (SCBA) 
A self-contained breathing apparatus, also nicknamed a compressed air breathing apparatus, is another vital piece of equipment used by firefighters. There is a face piece that goes over the face of the firefighter to continuously feed them fresh air. Since the breathing apparatus is self-contained, there's no need to attach it to a hose or another breathing gas supply other than your tank.
Within a self-contained breathing apparatus is an inhalation connection, a pressure regulator and a tank that operates at high pressure. The inhalation connection is either a face mask or a mouthpiece, while the pressure regulator does what it says, regulates pressure.
The tank produces pressure between 150 and 374 atmospheres, which is the equivalent of 2,216 and 5,500 pounds per square inch of pressure or PSI. The self-contained breathing apparatus may be closed-circuit or open-circuit. An open-circuit breathing apparatus doesn't use pure oxygen, but rather, compressed and filtered air. 
The first regulator in an open-circuit breathing apparatus lessens air pressure as the air reaches the mask. Then, another regulator cuts the air pressure even more so it's closer to atmospheric pressure. Next, a continuous positive pressure valve or a demand valve receives the air, which the firefighter can breathe in and out. 
Respiratory equipment is essential to emergency response firefighters as they are the ones entering into smoke filled buildings, and must protect themselves while saving lives.
Extrication tools 
Extrication tools are a group of hydraulic-powered piston-rod tools such as rams, spreaders or cutters. If a person has been in a car accident or they're stuck beneath rubble in a burning building, the extrication tools are a necessity.
Specialised fluids like phosphate esters are required for these tools, as this fluid is resistant to fire. The pistons work opposite one another, where when one lifts, the other drops. A valve switch and piston cylinder control most extrication tools, the switch is controllable by an operator. The operator also manages the amount of fluid.
The ram sends a piston rod in and out to separate parts of a structure until the firefighter can get to the victim. Cutters made of aluminum alloy will move in a scissor-like motion, with a mouth or blades that close and open according to hydraulics. The alloy steel used to make the piston rod in the cutters is fire-resistant as well.  
If a firefighter needs to slice through rubble, car doors or parts of a building, they'll use the cutters for the job. Cutters may be spreaders as well in a combination tool. A spreader will have pointed blades for locking into a building or vehicle and pulling it back to reveal a victim.
Extrication tools are a vital component to vehicle equipment, as firefighters never fully know what environment they are about to face, and must come fully prepared to help extract victims in an emergency.
Hydraulic ladders
The last crucial piece of equipment on a fire truck are ladders that let firefighters reach the heights necessary to do their job. Since building heights differ, firefighters will carry an assortment of ladders with them on the fire truck. Some of these will be powered by hydraulics to lift and descend smoothly as well as quickly.  
The primary ladder is usually 70 – 120 feet when fully extended. This can be used for a variety of purposes and really comes in handy with fires and rescues in multi-story buildings. In order to be able to safely support the aerial ladder, the fire truck must have ground support stabilisers or outriggers.
Besides the above equipment, it's also a common sight for fire extinguishers, fire hoses and flashlighting, floodlights and more to be onboard fire service vehicles. It is important to note that there are multiple other types of vehicles for different terrain and environments. This equipment is typical of your standard urban fire truck and may not be common for another type of vehicle.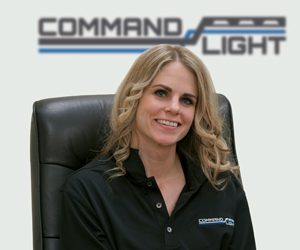 Commentary: Amy Speer, Marketing Director for scene lighting manufacturer Command Light
In an era of distracted drivers and demanding scenes, firefighters face many obstacles, but seeing (and being seen) shouldn't be one of them. 
Yet many responders are left in the dark with LEDs that are all too often fixed to the corners of their apparatus, instead of being mounted on a versatile light tower. When lights are fixed to the apparatus, only half of the scene lights are directed at the scene. Plus, this eye-level light creates blinding glare for the crews. Meanwhile, a light tower clusters all of the apparatus fixtures, allowing light to gather and be directed for maximum output at the best angle. 
To help reduce the cost of a light tower, manufacturers, like Command Light, are partnering with LED manufacturers to introduce economical fixtures, like the FireTech Helios, which reduces the cost of a tower by 33% while delivering 14,000 lumens per head. Departments are also seeing another emerging light tower trend — compact towers, especially slim-design towers, like the new Shadow Series Slim, which nests at just 8" x 63" x 11". 
And while you're spec'ing your light tower, don't forget to equip your truck with a traffic advisor, featuring light bars or arrow boards that can be rotated toward oncoming motorists to maximise safety during blocking scenarios. As of April 27, 2021, the Emergency Responder Safety Institute has documented 20 roadway responder deaths, and in 2020, the ERSI reported 46 total deaths — evidence that traffic advisors can be life-saving apparatus equipment.
Quick Fire Qs: Daniel Engelhardt, Managing Director, LUKAS Hydraulics
International Fire Buyer discovers all about vehicle equipment, its usability and technological advancement from the Managing Director at LUKAS Hydraulics.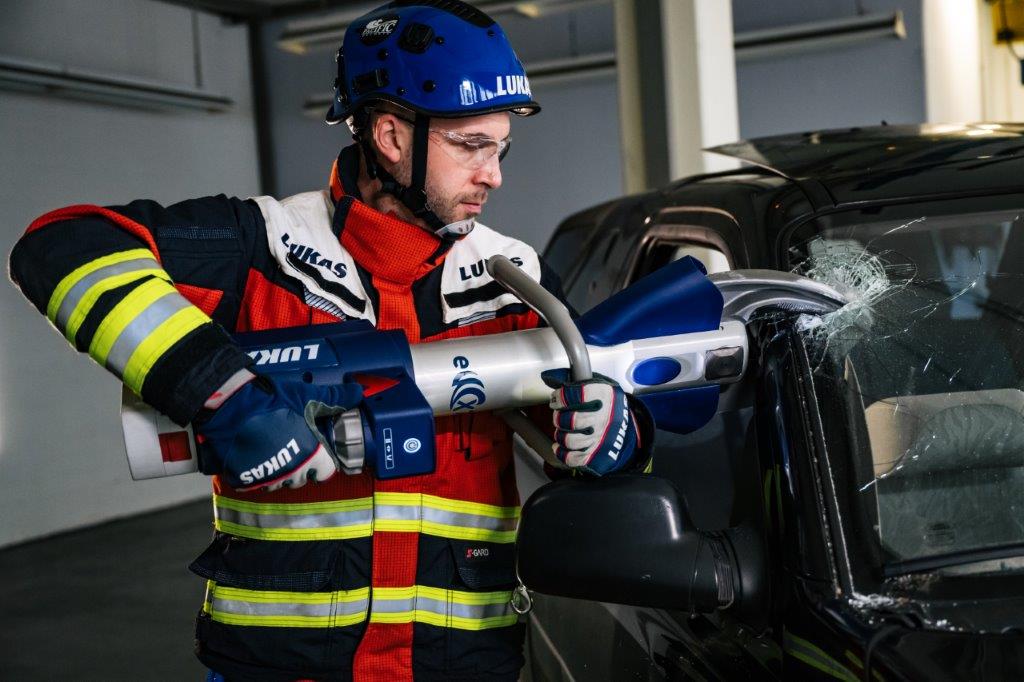 Daniel Engelhardt, Managing Director, LUKAS Hydraulics
Why does vehicle equipment change depending on the individual fire department?
As far as the hydraulic rescue equipment is concerned, we see above all great differences in the configurations in relation to the individual areas of application. A fire department that services a large section of highway with high speeds and a lot of truck traffic chooses tools that are suitable for heavy rescue. A city fire department, where accidents occur at lower speeds and without truck involvement, tends to choose smaller, lighter and more mobile equipment.
How crucial is vehicle equipment?
Absolutely critical. In our opinion, the most important aspects are the reliability of the tools, ease of use and versatility.
What types of equipment might you find on a search and rescue vehicle?
I think it depends very much on the area of application. A water rescue vehicle has a specifically quite different load than a vehicle intended for mountain rescue. Due to the increasing complexity of the application scenarios, manufacturers must develop their tools into multifunctional devices that can be used in almost all areas.
Is it easier to have battery powered equipment stored on vehicles?
Absolutely. Battery technology has developed rapidly in recent years, also due to the immense investments in the automotive industry.
Almost all equipment on vehicles is now offered with battery technology. The reasons for this are significantly higher mobility, weight savings on the vehicle and immediate operational capability without major preparation.
What are the top three necessary equipment items you may find on any vehicle? 
For us, of course, hydraulic cutters, spreaders and rams.
But seriously, I don't think you can distinguish between necessary and less necessary when it comes to equipment. The equipment that is important is that which helps to save lives at the decisive moment.
In your opinion what is the most useful piece of equipment and why?
I believe that a classification into necessity and usability does not do justice to any tool on the vehicle. I think it will be important for equipment to be usable for as many applications as possible, for manufacturers to move away from developing one trick ponies and to incorporate the complexity of the vehicles' applications into their development.
How has technology changed vehicle equipment over recent years?
Advancing battery technology in particular has helped manufacturers optimise their product ranges in recent years. 
It will be exciting to see how the tools will change with the help of rechargeable batteries as a constant source of energy, also in terms of networkability and becoming smart.
To stay up to date on the latest, trends, innovations, people news and company updates within the global fire market please register to receive our newsletter here.
Media contact
Rebecca Morpeth Spayne,
Editor, International Fire Buyer
Tel: +44 (0) 1622 823 922
Email: editor@firebuyer.com