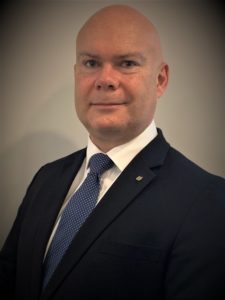 Graeme Leonard, Director of Sales – Fire Protection, Victaulic talks exclusively to Fire Buyer about the intricacies of the piping market and how to improve efficiency
Graeme Leonard holds an MBA in Business Administration and Management and joined Victaulic three years ago as Director of Sales – Fire Protection. Having built up experience in the fire protection industry for almost 20 year, Graeme brings experience in growing and establishing satellite operations globally, growing market share and opening new markets by leveraging brand equity, developing new product lines, and implementing operational strategies.
What are some of the primary piping challenges faced by your clients?
We hear from the industry, and see on some of our own projects, that contractors are suffering from a scarcity of skilled labour, resulting in increased labour risk and incorrect installations. This is one of the biggest challenges the industry faces. The ramification of this is quite big. Not only can it result in additional time spent on site, but also in call backs to fix incorrect installations, all impacting the bottom line of the contractor. They are also looking for other ways to increase site safety and efficiency, like saving installation time.
How does Victaulic help mitigate labour risk?
We look at mitigating labour risk in two ways: products and training. Producing products that are designed to speed up the installation, while making it easier and more reliable, is one thing that can help. A key innovation is our patented Installation-Ready technology. The idea behind these products is: how can we make the installation process more efficient while reducing risk of incorrect installation? The design of these products allows an installer to join pipes by simply pushing the couplings or fittings onto the grooved pipe, connecting it to, for instance, a second grooved pipe and then tightening the nuts. Also added confidence and reliability are built into these products – when the bolt pads touch metal-to-metal, a proper, leak free installation is guaranteed without having to meet a specific torque requirement.
Incorrect sprinkler installation also entails big risks and adds additional costs to the project. We try to address this with our Installation-Ready sprinklers. This grooved sprinkler with coupling already attached is designed so it can be installed with more speed and certainty of a proper installation than a threaded sprinkler, while also avoiding the risk of repetitive strain of installers. This in turn helps contractors to better control their labour and optimise the number of workers on the ground.
But real value can also be derived from manufacturer training. We are driving the industry towards training programmes, this both on the jobsite as well as in one of our training facilities. During these training sessions, we cover a broad range of topics like how to groove pipes, measuring the groove depth, how to instal and service our alarm valves and how to properly install couplings, sprinklers, and valves etc.
How do your piping solutions help improve efficiency for contractors on site?
I'll answer this by giving an example of our solution to join a 25mm pipe, the FireLock® Innovative Groove (IGS)System, which removes the need and mess of threading pipe. The IGS range allows customers to connect pipe twice as fast as a threaded one and eliminates the use of pipe wrenches. It is not only faster, but also eliminates the oil drippings and shavings typically produced during the threading process, allowing contractors to use a portable grooving tool throughout the jobsite without needing to clean up as they work and increasing overall productivity. Roll grooving pipe does not remove metal and maintains pipe wall thickness, which means Schedule 10 pipe can be specified throughout a system, decreasing both the weight and cost of pipe, and improving its corrosion resistance as well. And, as with most Victaulic products, visual confirmation of bolt pad-to-bolt pad installation ensures leak-free joints for increased customer confidence.
The range also includes flexible braided hoses with a captured coupling, VicFlexTM Series AH1-CC and Series AH2-CC. In previous models, pipefitters had to tape or dope the threads of the branch line nipple and thread it into the branch line outlet, using a pipe wrench to tighten the connection. The AH2-CC provides a pipefitter-friendly option by eliminating the need to use a pipe wrench on the branch line side, reducing installation time and potential for pipefitter injuries.  
Releasing this range brought the contractors rapid, safe and reliable installations of DN25 pipe, without all the mess involved with threading and having to wrench pipe together.  
How do you ensure innovation in a continuously evolving market?
Victaulic sees innovation as one of its keystones and therefore we put a lot of resources in making sure we keep the finger on the pulse of the market. We believe that a manufacturer can play a big role in solving challenges clients face. Listening to our clients during site visits and talking to installers and engineers help us to pinpoint the issues they have. This knowledge, we take with us in the product development process to create new innovations, adapted to the needs of the market and to address its challenges.
With the postponement of events over the past year, has it been difficult to communicate with and guide the industry? 
Across the industry, companies have had to think laterally to maintain interaction with customers. This is no different at Victaulic, and in response to global lockdowns, we leveraged Victaulic University, a leading online learning facility open to the industry. Through the platform, we have instructed hundreds of live sessions direct from our facilities, attracting thousands of virtual learners from multiple countries across the globe. Although attendance is growing rapidly as Victaulic adds new content and more users, we do look forward to meeting our customers in person again soon!
Do you have any exciting plans for the near future that you could disclose to us? 
We're very excited to be launching the Style 109 FireLock Installation-Ready Rigid Coupling later this year. With the Style 109 coupling, installers will enjoy the benefit of a one-bolt design that brings increased efficiencies, safety and value to their fire protection system. This coupling also allows for visual inspection of a single bolt pad connection, adding confidence in a leak-free installation, and can be easily handled and installed overhead, while the one-bolt design eliminates the risk of faulty installation due to not tightening the bolts evenly.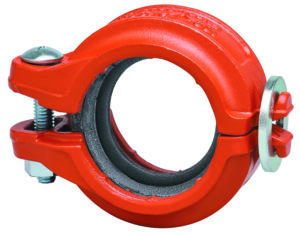 Product Showcase: FireLock Installation-Ready Style 109 Rigid Coupling 
Victaulic's new FireLock Installation-Ready Style 109 Rigid Coupling extends one-bolt Installation-Ready technology to DN32 to DN100 sizes. Previously available to DN25, the one-bolt design brings increased efficiency, safety and value to fire protection systems. Rated up to 2517 kPa with no torque requirement for installation, this coupling can be joined up to six times faster than traditional couplings and allows for visual inspection of a single pad bolt, adding confidence in a leak-free installation. The two-piece housing is easily handled and installed overhead, while the one-bolt design eliminates alternating during tightening.
FireLock IGS grooved sprinklers are designed to replace threads on both sprinkler outlets and sprinklers. The sprinkler and coupling arrive pre-assembled and require no preparation before installation. The biggest time-saver and labour management advantage are the elimination of sprinkler prep work and the tape and dope. A mechanical connection also allows the fitter to use a power tool to avoid applying torque directly to the sprinkler frame, in turn reducing the likelihood of leaks when the system is pressurised. Another advantage is that it does not require complicated training or tools. Utilising visual confirmation of one bolt pad for proper installation instead of using a torque wrench makes installation simple and gives users peace-of-mind.  
To stay up to date on the latest, trends, innovations, people news and company updates within the global fire market please register to receive our newsletter here.
Media contact
Rebecca Morpeth Spayne,
Editor, International Fire Buyer
Tel: +44 (0) 1622 823 922
Email: editor@firebuyer.com