International Fire Buyer takes you through the different stages of firefighting equipment from traditional extinguishers to exceptional robotics and vehicles
There are many different types of firefighting equipment. Some of this equipment can be used by anyone, while others must be operated by a trained member of the fire brigade. But with the advancement of technology and innovation, the term 'firefighting equipment' and what it encapsulates is ever changing to encompass even vehicles, robotics, PPE and more. 
Firefighting equipment should be considered as a means of both prevention and protection. For example, portable fire-fighting equipment can prevent a small fire growing out of control and spreading beyond the area of origin, affecting the means of escape and posing a risk to relevant persons. Fire fighting equipment is equipment designed to extinguish fires or protect the user from fire. Equipment can be used by trained firefighters or organisation fire wardens, untrained users at the scene of a fire, or built into a building's infrastructure (such as a sprinkler system).
Equipment generally comprises hundreds of different pieces of equipment and technology depending on the location, terrain, type of fire and people involved. Fire fighting equipment includes not only fire hoses and fire extinguishers but also fire-resistant protective clothing, fire-resistant gloves, respirators, communication equipment, visual aids such as thermal imaging, vehicles, robotics and so much more. Fire Buyer has collated a list detailing the differences between traditional commercial firefighting equipment and more specialist gear.
Traditional and most popular firefighting equipment are as follows: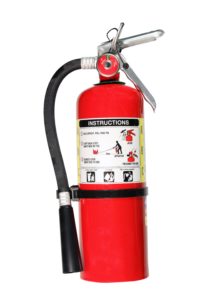 Fire extinguishers
Most modern fire extinguishers are developed to deal with many different fire scenarios. Fire extinguishers can be filled with powder, water additive, foam, or carbon dioxide. When choosing a fire extinguisher, be sure to pick one that will fight the fires that are most likely to develop in your business or home.
You should always be aware of the dangers of the incorrect use of firefighting equipment. This is true for all firefighting equipment, including fire extinguishers. A fire extinguisher should never be used to prop open a door. It should always be fixed to the wall, and it should be checked monthly by a service technician. Fire hoses
The fire hose reel lets out a powerful stream of water that extinguishes large fires and is most commonly used by the fire service. The hoses usually come in a fire hose reel, which holds 30 metres of tubing. This makes the hose easy to unravel so a fire can be fought quickly. Fire brigades can also attach different nozzles to the end of the hose to fight a variety of fire situations. A fire hose is one of the standard types of firefighting equipment, and it is effective against even the largest fires. Water supply can come from submersible water pumps, fire hydrants, fire engines and other resources.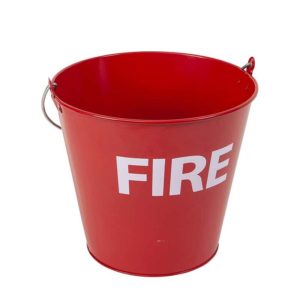 Fire buckets
A fire bucket is considered the simplest piece of firefighting equipment, but still serves a purpose. The standard red bucket has the word 'Fire' written on it and it is made of metal or plastic. It can be filled with water or you can fill it with a flame smothering powder like Flamezorb. To use, dump the bucket over the fire and keep repeating the process until the fire is out. Fire buckets are most commonly kept in public or commercial settings for quick use.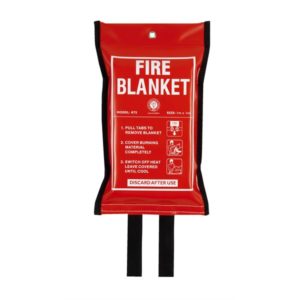 Fire blankets
Fire blankets are used to smother small fires that start in the workplace or at home. Economy fire blankets or white kitchen blankets are a good choice for a small kitchen or for a caravan. A larger workshop or restaurant kitchen should have a 1.2m x 1.2m blanket in case of emergencies.
If you work in a commercial kitchen or in a place that stores flammable liquids, you'll want the large 1.8m x 1.75m fire blanket. These blankets have a special pull tab that allows you to open them quickly.
Welding blankets are used to protect welders from sparks and splatter. These blankets come in three different weights and sizes.
Fire doors
Fire protective doors are specially made by which ones can save precious lives. Living in a safety room, fire doors are a very important part of the home fire safety system. A fire door as firefighting equipment helps to fight against fire actively and save family lives passively.
The fire protective doors are used to make solid forms, wood composite materials, or flax boards with a special seal. They are well framed and fitted with doors that do not pay scope to pass fire. Helps to withstand the fire, heat, or smoke following any path.
Normal doors used to burn quickly, but fire doors take time. As usual, a fire door delays a fire by approximately 30 minutes. Within this time every family member gets a chance to escape from the burning spot. It saves lives, pays time to pick out the precious things from fire-free adjacent rooms.
You always expect safety at your home while you stay in any of your house rooms. Every door is an entrance to break out a fire while happening. Unfortunately whoever doesn't care about the importance of fire doors used to pay unrecoverable life loss, and huge loss of property as well.
Using traditional firefighting equipment
It's important to have fire safety equipment to hand both at home and at work. You never know when a fire is going to start, and so having a fire bucket, fire blanket, or fire extinguisher could save your life. 
With technology, fire fighting equipment has well surpassed your traditional means, especially for hazardous fires, where the environment is a lot more complicated and unpredictable. 
Robots
In 2020 the Robot-TINO was launched. Specifically designed for fighting fires in industrial process areas, tunnels and storage terminals, it can also be used for terrorist incidents, urban areas and whenever firefighters need to deal with hazardous substances or extreme temperatures. The unit is protected against heat radiation with a cooling system which allows the Robot-TINO to get closer to the fire origin to suppress it with higher probability of success. In this regard, the fire brigades are better equipped to deal with fires while keeping the risks to firefighters at a minimum.
In recent years there has been a shift toward keeping people away from hazardous situations where possible. In many countries around the world fire brigades have already implemented the use of remote-controlled solutions (such as robots), with great success as they strive to achieve greater levels of safety. In the same way, there is still an expectation to ensure effective fire suppression even where fire crews maybe be at a reduced capacity. In light of the current COVID-19 pandemic, it would be prudent to support emergency response teams (or individual firefighters), with equipment that can help them to do their job better and as such remote-controlled solutions can be of great assistance.
In terms of manoeuvrability, the Robot-TINO gives the user complete flexibility to adjust direction (left/ right; forward/ backward) and height (up/ down movements & tilt). In addition to the high-visibility LED headlights and blinkers the Robot-TINO comes with, the unit can be fitted with cameras or sensors which can be used as a means of gathering intel when assessing the risks in inaccessible or dangerous areas, as well as assisting in search and rescue operations.
Due to its robust and durable design, the Robot-TINO can enable emergency responders to perform their duties better and more safely.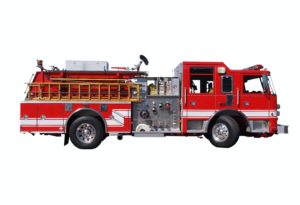 Vehicles
Vehicles are a crucial component of firefighting equipment, not just to transport the fire service rapidly to the scene of a fire, but also for the transporting of equipment directly to an incident. 
A typical modern fire engine will carry tools for a wide range of firefighting tasks, with common equipment including a pump, a water tank, hoses, ground ladders, hand tools, self-contained breathing apparatuses, BLS ( basic life support) equipment, and first aid kits.
The exact layout of what is carried on an engine is decided by the needs of the department. For example, fire departments located in metropolitan areas will carry equipment to mitigate hazardous materials and effect technical rescues, while departments that operate in the wildland-urban interface will need the gear to deal with brush fires.
Some fire engines have a fixed deluge gun, also known as a master stream, which directs a heavy stream of water to wherever the operator points it. An additional feature of engines are their preconnected hose lines, commonly referred to as preconnects. The preconnects are attached to the engine's onboard water supply and allow firefighters to quickly mount an aggressive attack on the fire as soon as they arrive on scene. 
Conclusion
The bracket 'firefighting equipment' has grown substantially over the years and is truly encompassing of many different niches. Of course the iconic firefighting equipment for domestic and brigade use is still very much relevant, however as technology has advanced, so has equipment and the capabilities of other things, such as vehicles. Even PPE and apparatus can now be included, with portable suppression equipment that can be attached to PPE and firefighters themselves.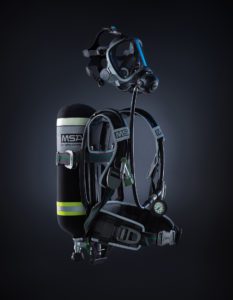 Commentary: Roger Startin, Joint Managing Director of MSA Bristol
It's an exciting new era for the team at MSA Bristol. The recent acquisition of Bristol Uniforms by MSA Safety has given our customers access to a wider range of cutting-edge firefighting equipment, securing a bright future for the company at the forefront of the global firefighter PPE industry.
The two trusted brands have always shared a similar vision and ethos, and offer complimentary products. MSA Safety is an international leader in the development, manufacture and supply of safety products, with core products for the fire industry including SCBA, firefighter helmets, gas and flame detection systems, portable gas detection instruments and fall protection devices. Likewise, Bristol Uniforms is a well-established brand and pioneer in the design and manufacture of specialist firefighter PPE, providing jackets and trousers suitable for structural firefighting, USAR and wildland firefighting.
By combining this expertise, we can now offer our customers a simplified purchasing and procurement process with one point of contact for quality, head-to-toe protection they can trust. MSA's iconic Gallet F1 XF helmet and M1 SCBA, for example, fit particularly well with Bristol's extensive range of hoods and jackets, providing seamless protection from a single supplier.
With such clear synergies and combined experience, we look forward to leading and innovating together as the new MSA Bristol.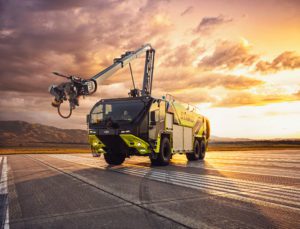 Commentary: Jack Bermingham, Business Unit Director, Oshkosh Airport Products
Aircraft rescue firefighting (ARFF) crews are faced with harsh conditions and hazardous scenes, including exposure to toxic fumes and chemicals, explosion risks, debris, and more. Adding to the complexity of these demands is the fact that most of the world's airports have a vastly different footprint, yet responders are required to arrive on scene, at any time of the day, in three minutes or less.
Navigating the complex environment of an ARFF scene, equipment choice doesn't just matter; it saves lives. Selecting apparatus with the right specifications and technology features allows a crew to focus on the mission at hand and manage the unique daily challenges.
In an ARFF emergency scenario, advanced fire suppression technologies and fire suppression agent conservation are critical. These technologies continue to be developed, including ultra-high-pressure water, clean agent delivery systems, and compressed air foam systems (CAFS).
There is increased industry demand and curiosity around CAFS in ARFF vehicles. Oshkosh Airport Products now uses an on-board air compressor that offers unlimited CAFS firefighting capability without having to recharge air cylinders. The attributes of the CAFS allow foam to cling to vertical surfaces and provide a highly effective insulating effect. Thicker foam blankets mitigate fuel vapors for extended time periods, and higher expansion ratios mean responders need less water.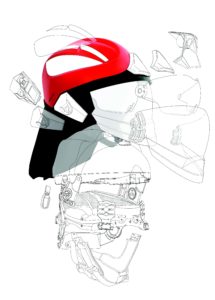 Commentary: Sam Milsom, Research & Development Manager, Pacific Helmets
The Pacific F15 Structural Fire Helmet combines the heritage and proven safety of Pacific's unique DuPont™ Kevlar® and Fibreglass reinforced composite shell technology with an advanced polymer chassis to revolutionize your firefighting experience. 
The F15 incorporates Pacific's latest innovative designs such as the dual pivot face shield. Using an elliptic dual pivot system, the F15's new full coverage internal face shield can be fully deployed when in use with a breathing apparatus to provide you with an extra layer of safety. The F15 also comes with the One Touch Eye Protector (OTEP) for easy, push-activated eye protection at times when full face coverage is not required. 
The composite shell provides excellent impact and penetration protection and is lightweight and resistant to chemical, UV, heat, and flame. Pacific shells have a proven service life of 15+ years' with proper care and maintenance. The unique chassis provides a platform for accessories and tech integration. 
The F15 has an optimised center of gravity, giving it stability and a light weight feeling. Combined with 5 specially designed stages of impact attenuation, the result is a helmet that reduces neck and spine fatigue and provides greater protection against falls and impacts.
The F15 comes certified to major international standards for Structural Firefighting (AS/NZS 4067:2012, NFPA1971:2018 or EN443:2008) as well as NFPA 1951:2008 standard for Technical Rescue. 
To stay up to date on the latest, trends, innovations, people news and company updates within the global fire market please register to receive our newsletter here.
Media contact
Rebecca Morpeth Spayne,
Editor, International Fire Buyer
Tel: +44 (0) 1622 823 922
Email: editor@firebuyer.com