With the continued spread of the Coronavirus, firefighters have had to tackle fire as well as a highly infectious virus. How can the risk in PPE contamination be reduced?  
The Coronavirus pandemic has plagued the world for over a year with thousands of deaths and hospitalisations. The lifestyle of society has changed to remote working, social distancing and lockdown measures. However, there are some industries that are a necessity and cannot stand down. Healthcare is primarily talked about in this area, but the fire service is also another crucial industry. 
PPE is already used to protect firefighters against chemicals in the line of duty, but what are the best ways to protect firefighters from the Coronavirus when they are saving lives? Jeffrey and Grace Stull, President and Vice President, International Personnel Protection, explores whether disposable or reusable PPE is best practice within the fire industry during a global pandemic. 
Disinfection, sanitisation and decontamination for PPE reuse as departments and organisations attempt to maintain uniform protection capabilities while their PPE supplies diminish or change during the crisis is a big topic.
Disposable Vs reusable PPE
Ordinarily, firefighters wear turnout gear and other types of protective apparel that is relatively rugged for variable response environments. This gear is often intended to last for years when properly cleaned and maintained.
During the COVID-19 pandemic, some firefighters are using single-use or disposable items because it is generally considered safer to simply remove and throw away the items than decontaminate them for reuse. Unfortunately, most organisations are attempting to conserve their disposable PPE, given the uncertainty over supply levels. Further, for many EMS calls, firefighters can't immediately know a patient's COVID-19 status, so they have to assume that any individual could be infectious.
Most reusable gear is intended to be cleaned, and for many products, there are well-established procedures for their decontamination. For example, in the most recent revision of NFPA 1851: Standard on Selection, Care and Maintenance of Protective Ensembles for Structural Fire Fighting and Proximity Fire Fighting, clear distinctions are made for how different elements of the structural firefighting protective ensemble can be either sanitised or disinfected for neutralising microbial contamination. In contrast, much disposable clothing has never been intended to be reused because it doesn't have the physical integrity for repeated use. In those cases where organizations are attempting to decontaminate and reused disposable respirators and clothing, this practice is only as a last resort when no other PPE of the needed type is available.
It should come as no surprise that the escalated demand for PPE is paralleled by a surging demand for sanitising and disinfection products.
Disinfection is the near complete inactivation (death) of microbial contamination, while sanitisation only achieves a 99.9% effectiveness in reducing bacterial or viral levels on a surface.
The use of disinfectants and sanitisers is now a very important part of the strategies for minimising cross-contamination that can occur through handling PPE that has been exposed to contaminated aerosols.
The Environmental Protection Agency (EPA) regulates antimicrobial claims and requires that disinfectants (and sanitisers) be registered in that the supplier must demonstrate the effectiveness of its products in reducing specific forms of microbial contamination using specified test methods and particular microorganisms. These qualifications are particularly pertinent now because the EPA has identified several products that are positioned to be effective against SARS-CoV-2, the virus responsible for COVID-19.
Nevertheless, it is important to understand several aspects about these products:
Disinfectants are considered effective for COVID-19, primarily by showing the ability to work against other hard-to-kill viruses as deemed by the EPA.
Most disinfectants are for use on hard (non-porous) surfaces, which means that they may not work well on porous materials, such as textiles used in clothing and other forms of PPE. Only those disinfectants that include instructions for use as a laundry additive or pre soaking agent should be applied to textile items, and only after it has been determined that those disinfectants will not cause long-term damage to the clothing or other PPE.
Each EPA-registered disinfectant comes with specific instructions that indicates its use in different applications, be it on a hard surface or other type of product. These instructions include the minimum contact time for disinfection to occur and must be explicitly followed. (Do not follow the practice that "more is better.")
There are a range of different active ingredients, some of which are unsuitable for different types of PPE. For example, some disinfectants use bleach or bleach-like chemicals that can potentially damage turnout clothing and other PPE materials. Choose only those disinfectants that can be used as laundry additives or for presoaking. Ensure with the PPE manufacturer that they are safe to use with their product.
In selecting disinfectants, departments obtain a copy of instructions that the supplier used for their EPA registration, which provides the most detailed information. If not provided by the supplier, these can be obtained on the EPA's Pesticide Product and Label System by searching the product name, supplier name or EPA registration number.
Note: When searching using the registration number, use only the first two parts of that number. EPA registration numbers usually have three parts separated by hyphens. The third part references the supplier. However, disinfectants that have the first two parts as identical are indeed the same product. Many disinfectants are actually the same products that are branded differently or provided by various suppliers with different product names.
Best practices
Firefighters who are deploying reusable PPE, particularly respirators, need to follow appropriate cleaning and disinfection procedures to adequately remove contamination threats and maintain the product's performance for its intended service life.
Many departments have chosen to use elastomeric half facepiece respirators or use adapters for their SCBA full face pieces to couple with P100 cartridges. The CDC recently released detailed guidance for the disinfection of these products.
Many respirator manufacturers provide detailed recommendations for their products that often specify disinfection approaches that work, and those that don't or that destroy their product. In all cases, the process begins with having trained, competent individuals performing these functions in a designated area who are outfitted with gloves, a protective apron or similar apparel, and face shield. For the most part, these procedures include the elements of first removing the cartridges or filters, then cleaning the facepiece, followed by its disinfection, rinsing and air drying. It is important to follow the manufacturer instructions and, if not sufficiently detailed, to instead rely on the guidelines provided by OSHA.
As indicated above, appropriate EPA-registered disinfectants should be used as recommended by the respirator manufacturer. It is further critical that the filter media for these respirators not be wetted or subjected to liquid disinfectants. For this reason, it is best to use filters that have a hard casing that can be wiped down by germicidal wipes. Unprotected disc or "pancake" filters should be avoided. CDC has not established any definite guidance on how many times filters can be used. Some manufacturers recommend changing after each use while others claim that as long as filters are not damaged, breathing resistance through the filter does not increase, and the filter media is not directly soiled, they can be repeatedly reused.
Reusable face shields and goggles should be cleaned, disinfected and air-dried using a similar set of instructions as applied to respirators. These items are generally easier to clean, but like respirators, care should be taken in selecting a disinfectant. Moreover, textile straps associated with goggles or certain respirators have to be considered since these materials are porous and may require different disinfection procedures.
Specific to COVID-19 exposures, these procedures must be coupled with advanced cleaning that is performed AFTER the sanitisation step, with the exception of ozone, which may occur any time during the cleaning process.
It is further recommended that the advanced cleaning step be replaced with specialised cleaning where the maximum wash temperature can be increased from 105 degrees F to 140 degrees F. Normally, wash temperatures are set the lower temperature due to potential concerns for applying higher wash temperatures, which are believed by some industry to cause earlier damage to clothing over the long term when applied repeatedly.
Other fire-resistant clothing can be handled in the same way as turnout clothing absent specific cleaning and sanitisation instructions from the manufacturer.
According to the CDC, general contaminated clothing should not be shaken but instead specially handled and laundered using the warmest possible wash temperature. It is generally advisable to use a standard laundering sanitiser additive in washing clothing. It is interesting to point out that for reusable healthcare linens, the CDC recommends using wash temperatures as high as 160 degrees F for at least 25 minutes in combination with dilute bleach; however, these conditions would damage many forms of protective clothing.
It would be ideal if some form of field disinfection could be used between calls. This capability would allow end-users to continue to wear PPE without concerns for cross-contamination and extend the use of the PPE. 
We believe that the reality of the current situation and how it may evolve into the future, even anticipating future pandemics, is a renewed consideration of reusable PPE products that are coupled with viable cleaning/disinfection processes to sustain their long-term use and availability when needed.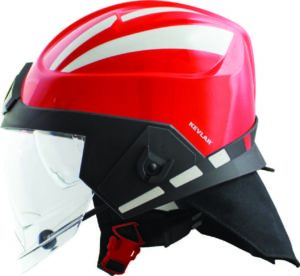 Commentary: Sam Milsom, Research & Development Manager, Pacific Helmets
The Pacific F15 Structural Fire Helmet combines the heritage and proven safety of Pacific's unique DuPont Kevlar and Fibreglass reinforced composite shell technology with an advanced polymer chassis to revolutionise your firefighting experience. 
The F15 incorporates Pacific's latest innovative designs such as the dual pivot face shield. Using an elliptic dual pivot system, the F15's new full coverage internal face shield can be fully deployed when in use with a breathing apparatus to provide you with an extra layer of safety. The F15 also comes with the One Touch Eye Protector (OTEP) for easy, push-activated eye protection at times when full face coverage is not required. 
The composite shell provides excellent impact and penetration protection and is lightweight and resistant to chemical, UV, heat, and flame. Pacific shells have a proven service life of 15+ years' with proper care and maintenance. The unique chassis provides a platform for accessories and tech integration. 
The F15 has an optimised center of gravity, giving it stability and a light weight feeling. Combined with 5 specially designed stages of impact attenuation, the result is a helmet that reduces neck and spine fatigue and provides greater protection against falls and impacts.
Commentary: Roger Startin, Joint Managing Director at Bristol Uniforms
Bristol Uniforms launched a brand new, state-of-the-art PPE design for structural firefighting at the end of last year, which offers advanced protection to combat the new and emerging risks faced by modern day firefighters.
We're very excited to be bringing EOS to market after many months of perfecting the new range. EOS has been developed in direct response to the changing risks faced by today's firefighters and the new precautions required to keep them safe.
By listening to our customers throughout the process from concept through to thorough wearer trials, and by taking advantage of the very latest fabric technology on the market, we created a new design that is bright, modern and stylish, with outstanding protective qualities. It is also very versatile and can meet the specific needs of our customers operating in all corners of the world.