Designed to "remove" or "reduce" the need for interim safety measures at high-rise buildings with unsafe cladding, the UK Housing Secretary, Robert Jenrick, announced a £30 million Waking Watch Relief Fund on 17 December 2020. Mr Jenrick has since announced the fund is now open for applications from 31 January 2021. 
The fund, which has been opened for applications, will "help end the scandal of excessive waking watch costs" via the installation of fire alarm systems in high-rise buildings, according to the Government.
The fund will cover the upfront capital costs of installing an alarm system. The common fire alarm system should generally be designed in accordance with the recommendations of BS 5839-1 for a Category L5 system, which is referred to in the NFCC's revised guidance on simultaneous evacuation.
To be eligible a building must:
Be in the private sector.
Be over 18 metres in height.
Have an unsafe cladding system.
Have a waking watch in place where these costs have been passed on to leaseholders.
Social sector buildings that can provide evidence of waking watch costs that have been passed on to leaseholders may also be eligible
'Waking Watch' patrols have been a long source of frustration and contention from leaseholders, residents and fire safety professionals, with an average monthly cost of £137 to a flat owner – rising to £256 in London. Introduced in the wake of the Grenfell Tower tragedy over three years ago in high-rise buildings considered high-risk, thousands of residents and homeowners continue to pay for the 24-hour fire safety patrols.
The number of affected buildings has continued to rise, too. In London, 573 blocks now have the patrols, compared to 286 in March, as more buildings continue to be identified as 'unsafe'.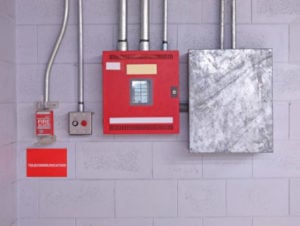 The installation of fire alarms should enable significant cost savings, believes the Government.
In research undertaken between June to September 2020, the costs of employing a person to carry out Waking Watch duties 24 hours a day exceeds the average one-off cost of installing a fire alarm system in three to six months, depending on the hourly rate charged.
In addition, some buildings require more than one person to carry out Waking Watch duties, while this doesn't take additional charges into account, such as radio/training costs or toilet hire.
Upon launch of the fund, Mr Jenrick said: "I've heard first-hand from leaseholders the misery that rip-off waking watch costs have been bringing to residents of high-rise buildings with cladding.
"I'm announcing a £30m Waking Watch Relief Fund to help relieve the financial pressure on those residents and to ensure they are safe. I'm confident that this will make a real difference to worried leaseholders up and down the country this Christmas.
"We have continued to prioritise the removal of unsafe ACM cladding throughout the pandemic and expect around 95% of remediation work will have been completed or be underway by the end of this year."
National Fire Chiefs Council Chair, Roy Wilsher, added: "We welcome this new Waking Watch Relief Fund, which will help to reduce the financial burden for some leaseholders having to fund the costs of waking watches.
"It has been our firm and long held expectation that building owners should move to install common fire alarms as quickly as possible and this funding is a positive step."
Waking Watch Fund open for applications
On January 31 2021 it was announced the fund was now open for applications from the Responsible Person (RP) – the person, entity or group responsible for ensuring the safety of residents in their building from fire and identifying suitable mitigating measures where needed. RPs are being encouraged to speak to their local Fire and Rescue Service about the implications of installing a common fire alarm in their building.
The fund will be distributed through councils, regional authorities and centrally though the Ministry of Housing Communities and Local Government (MHCLG), depending on location, with £22m of the £30m already having been allocated to the eight cities that were estimated to have the most need. Greater London has received £16.1m, Greater Manchester £2.1 and Birmingham £1.1m, with the other five recipients being Leeds, Liverpool, Bristol, Newcastle and Sheffield. The Government says these allocations have been based on the Building Safety Fund registration statistics, with "adjustments made to account for social sector funding". The remaining £8m will be available centrally and is available to all other areas of England.
On the opening of the fund, Mr Jenrick added: "We know many people are anxious about the costs of waking watches, which was always only intended as an interim measure while historic safety issues were fixed.
"This fund will relieve the financial pressure on residents in these buildings and ensure they will be kept safe. I encourage those who are eligible not to delay and start their applications swiftly so we can distribute the funds as quickly as possible."
MHCLG guidance for applications highlights that Waking Watch patrols and alarms should be considered "a short-term option that mitigate an immediate risk", rather than an alternative to remediation, and alarm systems should be installed "as quickly as possible" when funding is agreed.
It is also advised that "consideration should be given to installing an alarm specified to allow upgrade to a BS8629 Emergency Evacuation Alert System once remediation is completed". This will allow the alarm system to be converted for the use of an evacuation alert system which is compatible with the 'Stay Put' strategy, and "reasonable costs of installing these alarms may be covered by the fund".
The fund will cover the costs of fire alarms installed after 17 December 2020.
The full criteria for the Waking Watch fund, including application guidance, can be found here.
Do the measures go far enough?
Questions remain, however, on whether the £30 million fund goes far enough.
Stephen Mackenzie, Independent Fire, Security and Resilience Expert, offered his thoughts: "Unfortunately, the numbers don't add up and £30m is 'breadcrumbs' in relative terms. We have 457 high-rise blocks with ACM, as well as 2820 non-ACM registering for the Building Safety Fund.
"£30m is inadequate when we have varying reports of 500-700 blocks with Waking Watch in London alone, while reports of fire alarm systems costing anywhere between £50-500k.
"This is not 'Waking Watch relief' as it fails to address any historic cost now or in the future, when families are now facing prohibition notice, bankruptcy, and homelessness as we saw in Sheffield and other blocks.
"There is wider issue in general here, too. MHCLG recently projected 8,000 highrise buidings over 18m, plus 50,000 over 11m, all that require emergency EWS1 surveys. Three and half years post-Grenfell, and we are concerned that MHCLG continues to use 'estimates'. We simply do not trust the figures on the numbers of blocks, families and residents impacted, given the significant variance in figures. For many, this is already too late, with residents reporting endemic mental health issues and bankruptcy, amongst other issues, as a result.
"We are advising residents, campaigner groups and MPs to reject funds as inadequate. The bill for post-Grenfell recovery is at best between £15-£30b, while worst-case estimates suggest as high as £100b."
Speaking to the BBC, the Manchester and Liverpool Cladiators campaign group also commented: "After months of waiting for a full and fair solution, we hoped for more detail and more funding.
"Given there are up to 1,000 buildings in the country, where a Waking Watch is in place, we remain concerned that this new funding will help less than a third of the residents affected. Many will be left unable to benefit from this announcement. In effect, another safety lottery has been created."
The fund opened on January 31 2021, but when first launched was also said to be providing "immediate, emergency support to Wicker Riverside Apartments in Sheffield". The occupants and their families were evacuated in mid-December, but Waking Watch patrols were organised so they could return in time for Christmas. The building failed fire safety tests after an inspection by South Yorkshire Fire Service on 11 December, and residents are now concerned that they are living with a 'weekly eviction threat'.
The £1billion Building Safety Fund deadline was also extended by six months in December to "ensure more eligible buildings can remove unsafe cladding".
To stay up to date on the latest, trends, innovations, people news and company updates within the global fire market please register to receive our newsletter here.
Media contact
Rebecca Morpeth Spayne,
Editor, International Fire Buyer
Tel: +44 (0) 1622 823 922
Email: editor@firebuyer.com