With the Trump administration prohibiting the use of drones in the US, what benefits and aid is the fire industry missing out on when tackling the raging wildfires across California
As wildfires continue to grow in size and frequency, more resources are needed to keep them in check, particularly across America. The Trump Administration Directive has supposedly been halting the purchase of new drones jeopardising the rise of cutting-edge technology, curtailing the ability to manage wildfires and potentially putting more lives in danger. 
As global warming becomes the biggest threat to the world and mankind, freak weather and extreme heat has been plaguing the world over the past year. The Australian wildfires, which wiped out infrastructure, billions of animals and thousands of homes, and took over the country causing mass evacuations and struggles from firefighters, proved to the world the dangers of dry heat and uncontrolled wildfires. The California wildfires are no exception as firefighters continue to battle and attempt to contain the fires every day. Fire departments and governments must look to new technologies to aid them in the challenge, not only innovations in pumps, trucks and suppression equipment, but also in drone technology. 
In October 2019, the US Department of the Interior grounded its fleet of more than 800 drones and put a freeze on buying new ones due to concerns of Chinese spying. Many of the devices were used in wildfire fighting and prevention, including starting prescribed burns, a key tool in controlling wildfire. The Interior Department carries out more than 10,000 drone flights a year on average, according to federal documents. This year, a shortage of drones has made it more difficult to contain fires raging across the western United States. 
"We spent four years building out our program and then overnight the grounding of Chinese drones put our orders on hold," said Simon Weibel, a sales representative at Drone Amplified. "It has set the program back substantially, just as the technology was starting to get traction." Because of that shortage, the department will have done 28% less controlled burning in 2020 than it would have, had it purchased the new devices as planned by the end of the year.
The lack of knowledge regarding the possibilities of efficiency that drones offer is attributed to the recent ban. Drone technology appears to be the most recent sector and technology to have been damaged in the trade war between US and China, with President Trump's latest threats being against the social platform TikTok. 
Chris Anderson, CEO and Founder of 3DR, who previously supplied drones for the majority of flights carried out by the Interior Department stated, "Drones have gotten caught up in the cold war between the US and China, and it's unfortunate."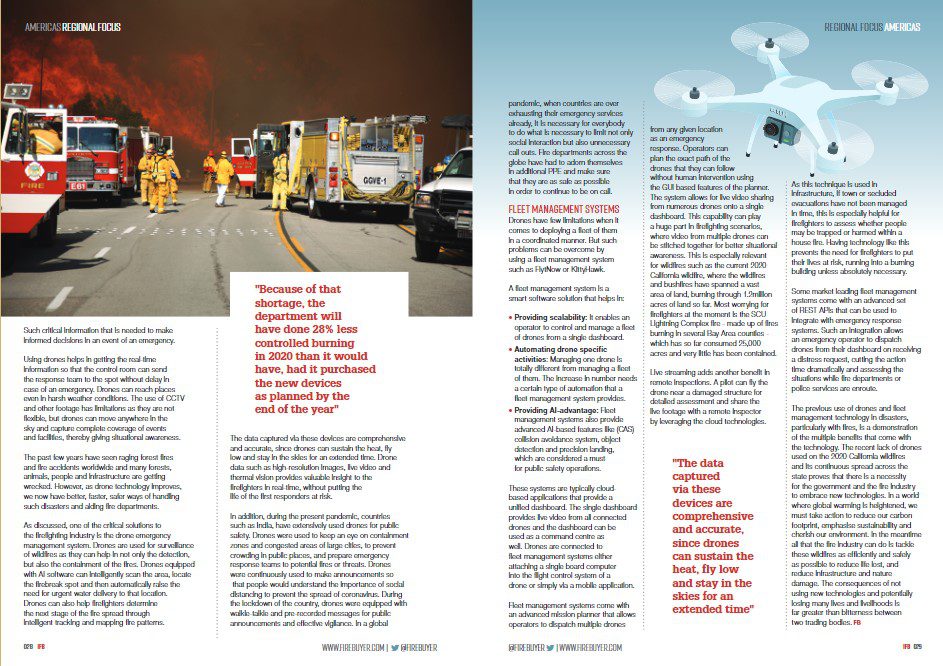 Drone technology
A common perception when someone hears about drones is of a quadcopter which is flying around on a stealth mission. Often people don't realise that these could also be life savers. Drones have made it possible for civilians, emergency response personnel and military forces to work together to fight disasters and help save lives. An example could be taken from the California fires of 2018 where drones were used to collect data and immediately warn people about the fires. From the data collected, the firefighters were able to track where the fire was moving and extinguish it before it could spread too far. Therefore, it is a clear indication of the abilities of containing wildfires and preventing the spread through just the basic use of drones.
Natural and man-made disasters often make conditions so difficult that relief workers are unable to access certain areas and provide help in time of need. Drones have the ability to monitor situations where the relief workers and manned vehicles may be unable to get to. This is especially helpful when fires have ravaged cities, blocked highways and towns are being evacuated.
During natural disasters like fires, floods, earthquakes or hurricanes, infrastructure supply lines are cut and disabled. Roads, bridges, communication cables, gas and water lines may get disrupted and the residents in those areas can be at risk. Drones can help in such situations by supplying water and food to those in need and even allowing temporary internet access. This seems like a simple deed, but when fire departments and emergency response units are required to help across a state, small benefits such as food and water can be overlooked, while bigger challenges of tackling the fire are a priority. Drones can aerially survey the damage and help in allocating resources, creating strategic action plans and finding people in need more quickly and efficiently. 
During hurricane Harvey, drones were deployed to check the damage caused to highways, power lines, office buildings and homes. The footage received from the drones helped public safety officials to rescue people, monitor flooding and better estimate the time of relief. A drone was able to search a 200-acre field and locate a missing man in only 20 minutes.Truly, drones can cover more ground, more effectively and in less time, than people. During hurricane Harvery, the world witnessed the benefits of deploying commercial drones in disaster relief. The same happened after hurricanes Irma and Florence, responsible for about $50 billion and $20 billion in damage, respectively.
Every country has times where people gather to celebrate, be it sports, festivals or any other occasion. During such events, emergency response teams have to be very observant for potential disasters, unexpected fires or watch for untoward incidents. Drones are an ideal tool here, since they provide a wider-field view and transmit real-time data to the control room. Using drones, one can zoom in on an area of interest and thus provide the control room vital information about what is happening on the ground. Such critical information that is needed to make informed decisions in an event of an emergency.
Using drones helps in getting the real-time information so that the control room can send the response team to the spot without delay in case of an emergency. Drones can reach places even in harsh weather conditions. The use of CCTV and other footage has limitations as they are not flexible, but drones can move anywhere in the sky and capture complete coverage of events and facilities, thereby giving situational awareness.
The past few years have seen raging forest fires and fire accidents worldwide and many forests, animals, people and infrastructure are getting wrecked. However, as drone technology improves, we now have better, faster, safer ways of handling such disasters and aiding fire departments.
As discussed, one of the critical solutions to the firefighting industry is the drone emergency management system. Drones are used for surveillance of wildfires as they can help in not only the detection, but also the containment of the fires. Drones equipped with AI software can intelligently scan the area, locate the firebreak spot and then automatically raise the need for urgent water delivery to that location. Drones can also help firefighters determine the next stage of the fire spread through intelligent tracking and mapping fire patterns.
The data captured via these devices are comprehensive and accurate, since drones can sustain the heat, fly low and stay in the skies for an extended time. Drone data such as high-resolution images, live video and thermal vision provides valuable insight to the firefighters in real-time, without putting the life of the first responders at risk. 
In addition, during the present pandemic, countries such as India, have extensively used drones for public safety. Drones were used to keep an eye on containment zones and congested areas of large cities, to prevent crowding in public places, and prepare emergency response teams to potential fires or threats. Drones were continuously used to make announcements so that people would understand the importance of social distancing to prevent the spread of coronavirus. During the lockdown of the country, drones were equipped with walkie-talkie and pre-recorded messages for public announcements and effective vigilance. In a global pandemic, when countries are over exhausting their emergency services already, it is necessary for everybody to do what is necessary to limit not only social interaction but also unnecessary call outs. Fire departments across the globe have had to adorn themselves in additional PPE and make sure that they are as safe as possible in order to continue to be on call. 
Fleet management systems
Drones have few limitations when it comes to deploying a fleet of them in a coordinated manner. But such problems can be overcome by using a fleet management system such as FlytNow or KittyHawk. 
A fleet management system is a smart software solution that helps in:
Providing scalability

: It enables an operator to control and manage a fleet of drones from a single dashboard.

Automating drone specific activities

: Managing one drone is totally different from managing a fleet of them. The increase in number needs a certain type of automation that a fleet management system provides.

Providing AI-advantage

: Fleet management systems also provide advanced AI-based features like (CAS) collision avoidance system, object detection and precision landing, which are considered a must for public safety operations.
These systems are typically cloud-based applications that provide a unified dashboard. The single dashboard provides live video from all connected drones and the dashboard can be used as a command centre as well. Drones are connected to fleet management systems either attaching a single board computer into the flight control system of a drone or simply via a mobile application.
Fleet management systems come with an advanced mission planner that allows operators to dispatch multiple drones from any given location as an emergency response. Operators can plan the exact path of the drones that they can follow without human intervention using the GUI based features of the planner. The system allows for live video sharing from numerous drones onto a single dashboard. This capability can play a huge part in firefighting scenarios, where video from multiple drones can be stitched together for better situational awareness. This is especially relevant for wildfires such as the current 2020 California wildfire, where the wildfires and bushfires have spanned a vast area of land, burning through 1.2million acres of land so far. Most worrying for firefighters at the moment is the SCU Lightning Complex fire – made up of fires burning in several Bay Area counties – which has so far consumed 25,000 acres and very little has been contained.
Live streaming adds another benefit in remote inspections. A pilot can fly the drone near a damaged structure for detailed assessment and share the live footage with a remote inspector by leveraging the cloud technologies. As this technique is used in infrastructure, if town or secluded evacuations have not been managed in time, this is especially helpful for firefighters to assess whether people may be trapped or harmed within a house fire. Having technology like this prevents the need for firefighters to put their lives at risk, running into a burning building unless absolutely necessary. 
Some market leading fleet management systems come with an advanced set of REST APIs that can be used to integrate with emergency response systems. Such an integration allows an emergency operator to dispatch drones from their dashboard on receiving a distress request, cutting the action time dramatically and assessing the situations while fire departments or police services are enroute. 
The previous use of drones and fleet management technology in disasters, particularly with fires, is a demonstration of the multiple benefits that come with the technology. The recent lack of drones used on the 2020 California wildfires and its continuous spread across the state proves that there is a necessity for the government and the fire industry to embrace new technologies. In a world where global warming is heightened, we must take action to reduce our carbon footprint, emphasise sustainability and cherish our environment. In the meantime all that the fire industry can do is tackle these wildfires as efficiently and safely as possible to reduce life lost, and reduce infrastructure and nature damage. The consequences of not using new technologies and potentially losing many lives and livelihoods is far greater than bitterness between two trading bodies. 
Share this post on our LinkedIn or Twitter.
See more news here.